A sales funnel, also known as a marketing funnel or a sales pipeline is one of the key methods to make money online. Let's talk about what is a sales funnel.
A sales funnel is in fact, a key element to making money on any business, not just online businesses. Marketing funnels have been around for centuries but they were very difficult to analyze before the Internet and all the access we have to analytics and statistics.
Every sale has five basic obstacles: no need, no money, no hurry, no desire, no trust. - Zig Ziglar
Click To Tweet
In online marketing, you can track all the steps of the funnel and really get detailed statistics on how the funnel is performing, allowing you to make adjustments quickly. I'll cover that in the future, but for now, I want to just explain what is a sales funnel.
I've noticed that many of my readers are totally new to online marketing so we're going to explain some basics now, today let's talk about sales funnel and answer the question:
What is a Sales Funnel?
The definition of a sales funnel, which can also be referred to as a revenue funnel or sales process, refers to the buying and selling process that companies and customers go through when a customer buys a product from a company.
Sales funnel have at least a few steps, sometimes a sales funnel can have half a dozen or more steps. Generally, in my experience, the most concise sales funnels perform better. I'm going to show you how it works with a four step sales funnel.
Sales funnels in theoretical terms

div style="width: 510px" class="wp-caption aligncenter">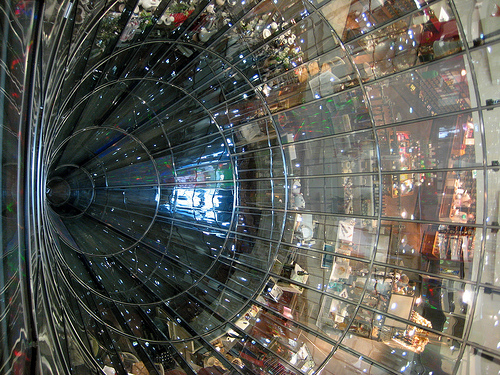 Following, I explain how a 4-step sales funnel might work step by step, and after it, I give you a practical example of each step.
Step 1 - Contains the most people. At this point, the buyer is just a prospect, and this step is relatively inexpensive for both, the company and the prospect. During this phase, the prospect doesn't know much about the product or the company or both. The company is defining what the profile of a customer could look like.
Step 2 - This shows a small but measurable commitment in part of the prospect and usually converts the prospect into a lead. The cost of setting this step up may be significant for the company, but it's negligible for the prospect. During this phase, the company is trying to establish trust and begin a relationship with the lead in order to educate them.
Step 3 - Educate the interested parties and request a bigger commitment. At this point in the funnel, the company knows more about the lead and will generally request a financial or emotional commitment. Sometimes a trip wire offer is used in this step.
Step 4 - This is the most narrow part of the funnel. In this phase, the company will ask the lead to purchase the product or service. The lead should now be familiar with the offering, and the customer is likely expecting the offer to be made.
If at step number 4, the lead became a customer and purchased a product, then they should be moved to another funnel. This new funnel is geared specifically towards existing customers and known buyers. During this sales process, the company will attempt to offer more value to the customer and ideally develop a lifetime buying relationship.
If the lead did not purchase at step number 4, then they should be moved to another funnel that continues building the relationship (step 2), and offers different levels of commitment to the lead (step 3), and eventually, makes a new offer or positions the same offer under a different value proposition.
Fr
From all people to a prospect, to a lead, to a buyer.

style="width: 510px" class="wp-caption aligncenter">