Is the Affiliate Industry a Shyster's Industry?
Recently some guy named Ruslan Kogan, wrote a pretty damning piece about the affiliate industry. I caught wind of it through one of my friends in Google + so I thought I would put things in perspective. If I saw the article, chances are you might have seen it too. Besides our social connections, the article was published on VentureBeat, a pretty sizeable online magazine.
The article was full of mud-slinging, assumptions, and clearly Mr. Kogan has no idea how to run a business. Frankly, I'm surprised he's made it this far.
Let's start with some background. Ruslan Kogan has an online electronics outlet, Kogan.com is based out of Australia and does nothing more than resell other brand's products. It's a middle man, nothing more. That's not a bad thing per se, but it may put things in perspective when you read some of the quotes from his article, like:
We were then able to generate a list of sites that drove the sales to Kogan. I had not heard of a single website on the list.
For the record, I'd never heard of "Kogan" and you probably haven't either, at least not before this piss poor attempt at some PR. It's amusing how he knocks on the affiliate sites because they're unknown when his site himself is but a tiny speck in the electronics reselling arena.
I couldn't help but to take some of the article a bit personal since I am a full time online marketer and a huge part of that is being an affiliate. And this guy came out swinging and took aim at the entire industry. Not once did he take a moment to do some introspection and try to figure out how his disaster might have been caused by his lack of analysis, research and understanding.
He should have done some homework before hiring a so called "Marketing Consultant" to run his first ever affiliate program. Instead he chose to do his research after things went awry:
So I asked the Marketing Consultant to lower the commission we pay to the affiliate network to 5 percent. I wasn't surprised a week later when he told me that we still did $200,000 of sales through them in a week. I then asked him to lower the commission to 1 percent. Once again, the affiliates delivered $200,000 per week in sales. Whatever these affiliate sites were doing to drive sales to Kogan.com, it didn't change as our commission to them was lowered by 90 percent. This defied general economics principles, so I started to get very skeptical.

I then got the marketing consultant to lower the commission we pay to half the sites on the network to zero percent.
BTW, what kind of research is this anyway? Tricking the affiliates into joining his program and then lowering the commissions because things aren't going as planned? Now, that is the move of a shyster.
The fact is that this guy had no idea what he was doing and jumped in head first without so much as basic advice or analysis from an Affiliate manager. A marketing consultant had no business leading the efforts of running an affiliate program. The affiliate world is so broad and diverse that you really need an experienced, professional Affiliate manager to work with you. Not a consultant.
An affiliate manager, would have advised Mr. Kogan to review the terms of the program. The affiliate manager would have or should have also advised him to be selective of the affiliates and the methods used to promote the program. Everyone has their own terms, even within a large network like Commission Junction, Shareasale, Clickbooth and others.
When it comes to affiliate marketing, there are dozens of ways of promoting a product. Email marketing, PPC, Oragnic search, banner ads, social media, content marketing, coupons, vouchers, in person events, video marketing.
It's up to the merchant (Kogan in this case), to set their terms. For example, some companies do not allow you to run PPC campaigns targeting the brand's name as a keyword. Other companies do not allow voucher or coupon websites to promote the products. Some companies don't even allow email marketing. But the beauty of it is that this is all within their control.
Just as I wrote before, affiliate marketing is nothing more than performance based commissions. You produce a sale, you get a commission. Plain and simple from that point of view, but like almost any other sales process, there are restrictions as to how you can generate your leads and how you can promote and advertise. Mr. Kogan failed to do any due diligence into these matters. Which leaves all the blame of his affiliate marketing fiasco to rest on his shoulders and nobody else. Shame on you Ruslan for calling the entire industry a scam.
A little perspective please
Now let's bring some perspective into this for you, for my readers and for those of you trying to learn more about affiliate marketing, affiliate sales and the world around it.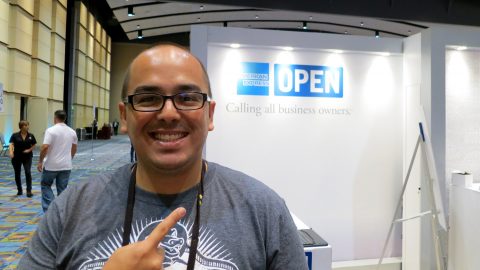 Here's me, at Affiliate Summit East 2013 (#ASE13) in Philadelphia, and I took this picture explicitly to show you the caliber of companies that are involved with affiliate marketing. Perhaps you've heard of this little company before? You recognize the logo? I thought so. And you really think such an iconic household brand would affiliate (no pun intended) itself with a "scam industry"? I very much doubt it.
Some of the biggest brands in the planet use affiliate marketing. Some of them use it to promote their products and encourage their fans, consumers and others to promote them. Sometimes they themselves promote other products that add value to their own offerings. Now, these brands you'll recognize.
Here's a quick list that I compiled in about 10 minutes of well known brands that offer affiliate programs. You might have heard of some of these, perhaps...
24hour fitness
Adidas
Adobe
Allstate
Audible
BOSE
Best Buy
Black & Decker
BodyGlove
CVS
Capital One
Columbia
Cost Plus World Market
Crucial
Dell
Discover
Disney Store
Etnies
Firestone
Gamefly
Garmin
Godaddy
H&R Block
Hertz
Home Depot
Jack LaLane
Jelly Belly
Kay Jewlers
KitchenAid
Lenovo
Lindt Chocolate
Loehmann's
Lowe's
Marvel
Microsoft
Netflix
New Balance
Norton (Symantec)
Petco
Phillips
Public Storage
Quicken
Reebok
Safeway
Samsung
Sears
Sketchers
Skype
Spalding
Sprint
T-Mobile
TomTom
Toys R' Us
TrendMicro
TurboTax
Verizon Wireless
Vons
Walgreens
Warner Brothers
Weight Watchers
West Marine
Zappos
Zillow
I think that illustrates my point. Don't believe the hate, affiliate marketing is a completely valid industry. You can make additional money doing it part time, or do it full time, like any other job.
It requires skills, knowledge, connections, and hard-work. Just like any other industry, there are bad apples. Fortunately even in this case, we're not looking at a black sheep type of situation, but just an inexperienced and lazy business owner that took the easy path of putting the blame everywhere but where it should have been. Within his own organization and management.
After the original article, another more level-headed article was published at VentureBeat that puts things in perspective and is much more eloquent than my own.