I really should do these more often. But here we go.
September was extremely active for me. I misconfigured a scheduling plugin that I was testing and about a half dozen articles from before got re-published as new. I skipped any that were not relevant anymore in this recap.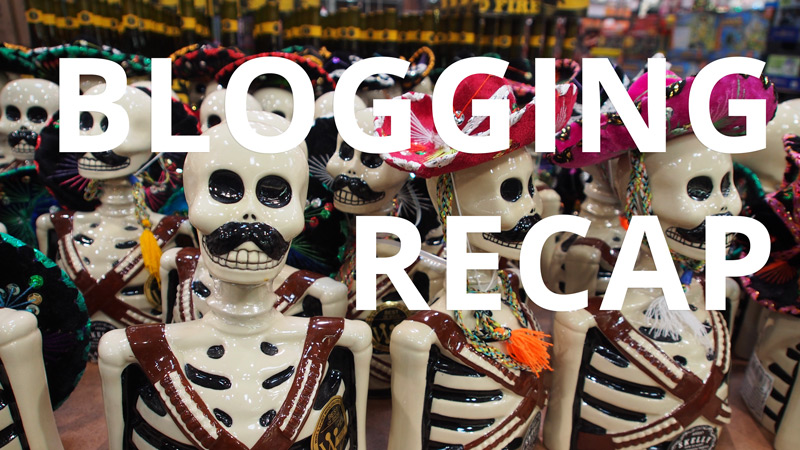 Did Youtube/Google disable private group and circle sharing? It seems to me that you could share videos with various levels of privacy. Seems like they took away the most personal one.
These are five ways to make your WiFi signal at home better. A short and entertaining video telling you how to get more out of your existing router at home. Faster more consistent WiFi, what's not to love about that?
Email should be short and to the point they say. Well, this screenshot and blogpost may support the contrary. Maybe it's better to have such a long email that it gets truncated. If you have clout and trust, this could increase open and click-through rates.
An inspirational story about succeeding against the odds. Just watch it. You won't regret it.
Heres my review of a new hip seafood bar grill called Taps in Irvine. The food looks good and the place is inviting but find out what else I thought about this place. Especially if you're planning on visiting it.
Do you know what Knott's Scary Farm is? In this blogpost I introduce you to a Southern California favorite. The main Halloween attraction at Knott's Berry Farm. Check it out. Also the visit report is a bit down the list.
So how can you save 3 BILLION gallons of water? This startup wants to accomplish this with a smart shower head. Pretty interesting and I'm looking forward to seeing how this develops. Definitely noteworthy and if you are into startups, or the environment or just being cool, check it out.
Ahi Poke Nachos. I know it is not even close to tasting them, but these pictures are the next best thing. your mouth will water.
Knott's Scary Farm. My visit report to Knott's Scary Farm. This was awesome, my first time attending after wanting to go for a really, really long time. It's definitely something you must do if you're in the area.
Naguib Sawiris, a billionaire from Egypt wants to build an island for the refugees. This is pretty cool and I think the countries involved should give this guy the green flag. It's been almost 2 months since news broke but no progress seems to have been made. Publicity stunt or genuine attempt to help?
The IM Freedom World Tour is on. Find out more about this exciting opportunity to learn how to start your own business online today and change your life forever. The IM Freedom even is coming to a city near you, and I recommend you check it out.
This guy is Gary Vaynerchuck and he can electrify your business and revive your purpose. I have been a fan of Gary since I joined Twitter. He even followed me and tweeted at me for a while. That was fun, but he can really help you narrow down in what you need to do next in your business. Learn more about him.
The Home Business Summit is here. This is like IM Freedom's (see post above) big brother and if you liked the IM Freedom event, you must go to the Home Business Summit by Matt Lloyd.
Why should you invest in the MOBE License Rights program? Let me explain it to you. And if you have questions, now is the chance to ask. Don't be deceived, don't be fooled and don't be afraid.
Everybody tells you, do this one thing and you'll succeed. Do you know what it is? Is it even true? Well I'll let you find out more in the video but I recommend you take a look at this enlightening TEDx talk by Scott Dinsmore.
If you are like Thomas, here is some proof. Most people don't think you can make money with affiliate marketing. The doubters, haters and trolls never stop, but if you just want to see a little proof that you can make money, take a look at this.
Driving with Oscar, Episode 4. Blogging for Business. The first few episodes of this are not necessarily in order. This time around I talk about blogging for business & profit. Enjoy.
Easiest way to open a Young Thai Coconut. If you didn't notice, I love coconuts and this is the best and easiest way to enjoy these delicious coconuts. Just make sure you get the young thai coconuts that are already cut into a shape. Like in the video, the other older, more mature coconuts won't work with this.
The Top Five Affiliate Manamgent Myths. An awesome panel of affiliate experts talk about some of the most circulated myths in affiliate marketing. It's really good. A tip of advice if you're crunched for time, increase the speed of the video to 1.25x.
Tips, Tricks, Hacks and Q&A about working at home. Another expert panel discussing the benefits, challenges, processes, culture and other critical topics for people working from home. Especially helpful for parents, solopreneurs and people starting out.
Slacklining is a thing. I had no idea that this thing had a name. You've seen it before. I know I had seen it before, but I thought it was just a thing that people did in the circus. Nope, there are tournaments and championships and, it's hard to stop watching.
When the Apocalypse comes. I found a cool video and I had to share it with you. It's a guy that builds a shelter with his bare hands, from scratch. I'm talking 100% from scratch. He makes his own clay to build bricks to build the walls. Amazing.
How To Add the Clarity Widget to Your Blog. I was playing around with some plugins and I think this got re-published from earlier in 2014. But nonetheless got published and I didn't want to delete it after the fact. It is still pretty relevant.
Driving with Oscar. Episode 2. I talk about starting a business online. We talk about some of the things you need and some of the things to consider as you start out your online business.