Come to Home Business Summit as my Guest. Just Weeks Away.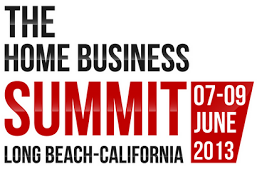 I invited some of you to come to the Home Business Summit as my guest in June. I still have some spots available and would love to have you there. The Home Business Summit will teach you how to run a home based business more efficiently or start one from scratch. It takes place in Long Beach June 7 - 9.
Most of the home based entrepreneurs fail in their first year or two. Not because they have a bad product or service, but because they don't know how to use the internet effectively. Things like email blasts, newsletters, traffic, SEO and converting visitors into customers. The Home Business Summit will teach you how to address those issues effectively and successfully.
I will be there along with some of my friends. Here's how the seminar will go:
- Friday afternoon/evening there is a mixer and networking session.
- Saturday morning and all day you'll be in intense learning sessions and at night we party.
- Sunday there's half day more of learning and we're done.
You can stay at the Hilton where the event will take place, or you can commute. I'll probably be commuting since it is only 20 - 25 minutes away. But If you stay at the hotel, the event will refund your money if you don't learn what you were there to learn.
I promise you'll be amazed by what you learn. I'm going and hope you can come with me. Like I said, I can bring you in for free (so you have nothing to lose) but you have to sign up now the event is just about two weeks away. Let me know your email address below and I'll send you the details and information. Limited spots are available for me to bring you in for free, otherwise it is $97 standard or $197 for the vip pass.
[gravityform id="9" name="Join Me For Free at the Home Business Summit" ajax="true"]