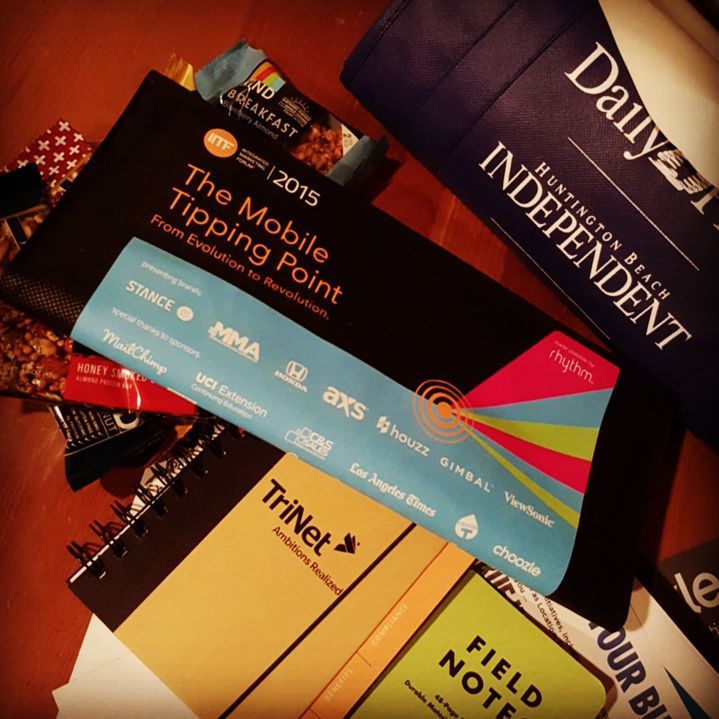 Inspecting the loot from #2015IMF. #swag #list - Field Notes memo book by vitamin T
- Spiral hard bound notebook by Trinet
- An obscene amount of KIND bars including their new breakfast bars.
- Looks like a deck of cards by @Mailchimp
- Postcard about HR and fitness by... Trinet
- Mission statement flyer about MMA (Mobile Marketing Association) by... guess who? (Really guys?)
- Innovate and grow paper about something or other... TL:DR By... Trinet. (Seriously?)
- Postcard about choozle... by choozle
-UCI extension continuing education brochure with 20% off by using #coupon "IMF20" at extension.uci.edu
- A human head-sized sticker of a creepy lemonhead winking at me.
- An awesome sketchpad. It says: 80# Mohawk Everyday Digital Text. By allura, high quality on-demand printing
Comments... Pretty standard bag. The highlights... KIND bars, sketch pad, playing cards. Awesome event by Rhythm Agency.
Disappointed with the lack of creativity and innovation by a couple of the sponsors.
We are at a #marketing conference, by marketers, for #marketers. The hardest demographic to sell to... and you're telling me than an overwritten flyer with your logo is the best you can do to get our attention?
Really?
Those couple sponsors... Wowed me, today, you did not. I hope you took lessons from the speakers and the panel.
Separate blogpost about the terrific event, and people coming up next.