There are many products in the My Online Business Education repertoire. And if you're considering buying into MTTB so you can learn how to generate big commissions online and start your home based or online based business right, you may be wondering something important. What will I be selling?
I get this question on a regular basis. What products are available for me to promote when I join My Online Business Education? So here's a short list of the top products and some of my favorites. Please keep in mind that MOBE has close to 40 products available for you, these are just a few of the top sellers.
Education & Coaching Products

MOBE's premier commission generating system: over 21 Steps, discover how to get $1,000, $3,000 and $5,000 commissions deposited directly into your bank account- without ever making a phone call.;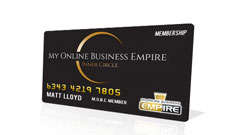 Learn the hottest and latest online marketing, Lead generation and business scaling tactics from Matt Lloyd. Special One hour coaching with one of our consultants.
Learn email marketing (the No. 1 Income source of any internet marketer) from Matt Lloyd. This course shows you EXACTLY how Matt did it in his business- and how you can too.

Learn the business model that took Matt Lloyd from making $700/month to $314,900.29/month in an 18 month period. This is an ebook that describes how the business works, and how you can start leveraging the infrastructure MOBE has in place for you to generate comissions ranging from $9.00 up to $8000.
Other Peoples Time' – the ultimate leverage point to grow your business. Learn everything you need to know about effective outsourcing.
Learn why traditional Affiliate Marketing is dead, and how to use the new rules to consistently dominate in major product launches, get major recognition, and win thousands in prize money.
Learn the secrets Of 6 & 7 figure network marketers: how to recruit new reps on autopilot, using just the internet, without rejection.
Licensing
My Online Business Education Licensing Rights. License and market MOBEs main products, including My Email Marketing Empire, How To Build A Funded Proposal, Affiliate Bonus Domination, The O.P.T. Formula and get 90% commissions and up to $1,200 on the backend.
This is your business in a box. It allows you to sell all products and retain the customers for life. It's a hybrid between affiliate marketing and a franchise model. This is required if you want to earn maximum commissions from MOBE.
Events

This is a workshop for those people that want to join internet marketing and learn more about MOBE. MOBE can change their lives by offering a path to 6 or 7 figure income working from home. It is free to attend.
The event designed to help new internet marketers launch their online business. This is a 3 day event that takes place in various cities throughout the world two to three times per year. More and more of these events are being planned for upcoming dates and will include new cities.
If you are ready to move your MOBE License Rights business to the next level, and start earning $3,000 commissions as a Titanium member, this is the place you need to be. You'll also be invited to our annual 3 day 'all expenses paid' Titanium Mastermind conference.
The Platinum Mastermind is Matt Lloyd's highest level training program. Members are accepted by application only. Once a member, you'll be able to make $5,000 commissions without ever having to pick up the phone. And, you'll be invited to the annual 'all expenses paid' 5 day Platinum Mastermind event, where you'll learn from the top minds in marketing, wealth creation, and personal development.