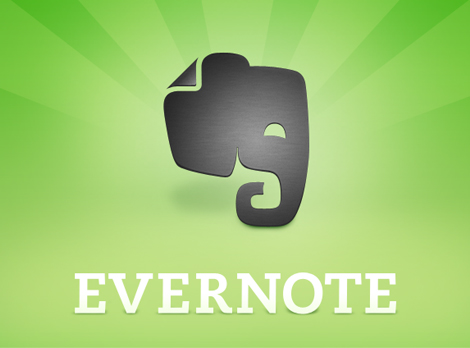 This is the first part of a series. These are the tools to help you use the internet better. Whether you are a blogger or an entrepreneur, these tools will save you time, money and headaches. This much I can promise you.
The series is all planned out and it focuses on some of the best tools out there today.
These tools and series of articles will benefit beginners and advanced users alike. But I suspect some of the more experienced bloggers and marketers out there have heard of these and probably use most of them.
When possible, I have chosen a tool that offers a free option. Most of the tools and services follow a freemium model, but don't forget that most times it takes money to make money.
Without further ado. The first up to bat is Evernote.
Evernote is packed with features. Yet it is easy to use.
I've mentioned Evernote before in a few posts but I don't think I've ever given you the skinny on it. Evernote is a free app that keeps notes for you and synchronizes them across all your devices via the cloud. This is why it's awesome.
The notes can be long or short, you can take voice notes and you can also save documents or images to it. Because it lives on the cloud, if you find yourself without your mobile device or computer, you can access your notes via any web browser.
The mobile app will let you take a photo and save it as a note, or add it to an existing note. As with many great services, Evernote has two levels of service.
The free version and the premium version. I'll tell you about the differences in a minute.
Compared to any other similar system out there, Evernote is a classic example of best-in-class. To top off all these features, Evernote is social and allows you to create notebooks that can be shared with other users for a collaborative experience.
The interface is easy to use and makes sense. Searching is easy and powerful. Evernote even searches the text on the images that you've saved to your notes! I use this feature to save event programs, restaurant menus, brochures and other information that I want to research further later on.
That's a summary of Evernote and if you want to get started, just go to Evernote.com and sign up for an account. It's free, instant and they have apps for Android, iOS and for your computer, get them here. But read on to learn more about it and why I rave about it and have been using it for over 10 years now!
Why should you use it?
First of all, it's free. Even if you decide to upgrade to the premium version, the price is negligible. The reason Evernote is in my toolkit and should be in yours too is because it is so versatile, easy to use and powerful at the same time. I can save notes, pictures and make voice memos that are easy to find when I need them.
Also, I think that unlike many other services, Evernote is here to stay. They have a huge ecosystem of complimentary apps and services and they've been around for years now. I don't see them going away anytime soon so your investment in learning and using the system should have really good longevity.
Bloggers
As a blogger, I use Evernote to save ideas and begin blogposts while I'm away from my computer. This way I don't forget an idea or key point that should be in my next article. When I'm ready to develop the blogpost further then I can just pull up Evernote in my desktop or laptop and my notes will be there.
If you use any kind of affiliate links on your blog, you can save the links to Evernote so you have them all handy when you need to use them on your blogposts. You don't need to be logging into each of your portals to get your affiliate codes.
Entrepreneurs
As an entrepreneur, Evernote allows me to save people's business cards and notes about them so I remember how, when and why we met. This way I have a sort of little black book that helps me develop my business relationships further. I can take pictures of a location I want to research in case I want to propose my business to them.
Research
As a researcher, I can use the Evernote plugin for Firefox or Chrome to save snippets of text from various websites. These snippets can be turned into references and quotes to go into my blogposts or reports for a client. So my research time becomes more efficient and yields tremendous results.
It is well connected. Evernote plays along with many other web apps, like IFTTT and Tarpipe. And it is social like I mentioned earlier. You can organize your notes into notebooks and tag them, and then you can share a notebook with another Evernote user and collaborate on a project. This is especially useful when you're working with another blogger, or client and you're drafting your next venture or project.
Programmers and Developers
You can save snippets of code, or commands to save you time and effort. Just create a notebook for it and make sure you tag the snippets so you can find them if you forget an exact search term. Use tags like CSS, PHP, Shell, Bash, Phython and others. I often use it to save CSS snippets I use regularly on WordPress and whenever I'm coding in themes for WordPress.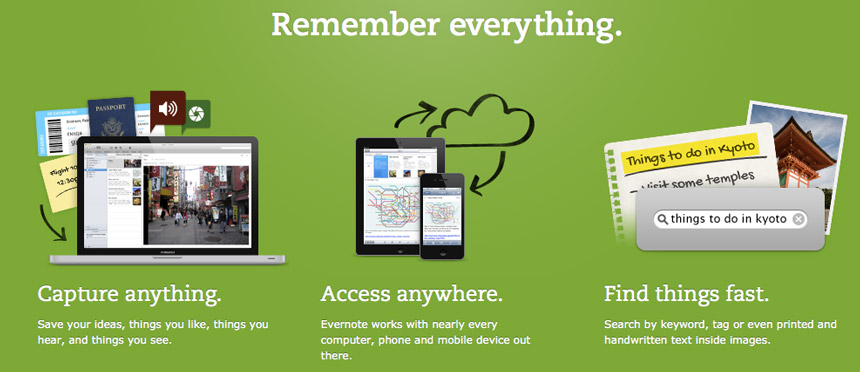 Examples of Evernote's awesome power
Plan a trip.
When I went to Italy in 2010, I went with three other people and Evernote became an extremely useful tool for planning our tours, sightseeing and general communication. We all worked on one notebook where each person put in their research about the locations we wanted to visit as well as links, pictures, and comments. In a similar way, I use this feature with clients to share project specs, progress, research and other notes. My wife and I even use it to share shopping lists.
Save programs and agendas.
When I go to an event, like Affiliate Summit, I like to take pictures of the program and the posters. This way I can look them up later when I need to blog about them or want to know more about the speaker, vendor or promotion. This would work for any type of conference or event. When you use the Evernote plugins or addons for your browser, Evernote will show you matching search engine results with your notes already on Evernote so that is a goldmine when you're trying to do research.
Search documents and create a paperless office.
The premium version of Evernote allows you to search the contents of a PDF document. So if you want to create a paperless office, Evernote becomes your digital filing cabinet. You simply scan your documents, save them to Evernote and then shred them. This leaves you with a digital AND searchable copy of your bills, letters, and other documents that would otherwise go into a clunky physical drawer somewhere where they are hard to find.
Free vs. Premium
The free version of Evernote is perfect for most people. The premium version offers some really cool features that are worth looking at:
Offline notes on your mobile device. If you travel a lot, this could be useful as notes on the Android, iPhone and iPad apps may not be available without a data or wifi connection. With premium, you can access your notes even without a connection. It is worth noting that the notes on your laptop and desktop are available even if you loose your internet connection. If you create a note on your mobile device while you are offline, the note will synchronize up to the cloud as soon as an internet connection becomes available.
PDF scanning. If you want to use the paperless office idea, you'll need premium. When you save PDF documents to your Evernote account, they are only searchable if you have the premium version. You can scan and search for pictures (JPG/JPEG), but PDF's won't be found by their contents without the premium version.
Faster indexing. With the premium version, you'll be able to index your images and pdfs faster than without it. I personally don't see this as a compelling feature, but some people might need their documents and pictures to be searchable right away. I can wait a few minutes.
The other feature that premium offers that is worth looking at is more transfer capacity. Evernote in itself has no storage limits, but they do have limits. The limit is related to how much you can upload into the Evernote service each month. With the premium version, this limit is raised up to 1GB.
In conclusion
Until you use Evernote and really put it through the ringer, it can be hard to understand why I'm so adamant about it. I really believe everyone can benefit from using it, regardless of their occupation, belief system or age. Since it is free, why not give it a try. I think you'll find that it is in fact a must-have application. I really use it like my extended brain and memory aid. Once you use it you'll wonder how you ever lived without it. You can get Evernote for free right here.
Got something else to add or a question? leave it in the comments and I'll get back to you asap!