TEDx Orange Coast #TEDxOC
Thanks to Gigasavvy, I got a chance to attend TEDx Orange Coast. And as always, the event was inspiring, challenging and thought provoking. And you wouldn't expect anything less from a TEDx event. John and I headed over on Friday for the two day event.
TEDx Orange Coast took place at the Segerstrom Center for the Arts which is magnificent location with a great looking auditorium. And the accoustics are also very well tuned. I would say that it is a great venue for an event like TEDx.
I also attended last years event, and I feel like last year's event was way better. Maybe it is because that was my first TEDx event and many more of my friends were there, or maybe it is because last year's was simply better. From talking to other attendees, it seems like I wasn't alone on this feeling. The showcase floor felt empty, the networking and interaction was lacking, even the grab bags were just meh.
But getting back to the point about the event, I must point out that I had a great time. I met some great people and finally connected with some people I've known online for quite some time. I got a chance to meet Denisse Montalvan from The Orphaned Earring. I worked with her and continue to help her with her life-changing organization. And I met one of my favorite mommy bloggers Mayra Rodriguez from Estilofamiliar.com.
Also got a chance to catch up with Marla, Emily, Lala, Marcie, Chris, Joel & Calvin. All long time social media friends. Emily and I actually work on Free Lunch Friday together too, but due to a couple cancelled events I haven't had a chance to see her for a month or so.
Out of all the talks I heard, I think that Adora Svitak was my favorite. This girl was amazing. She's so young and charismatic and smart that I couldn't help but stay glued to her speech. I didn't even tweet about it or looked at my phone once while she spoke. The crazy thing is that she's only 15, maybe 16. But her talk was more compelling, and entertaining than many of the adults'. It was thought provoking and inspiring. You should look her up, and be inspired too.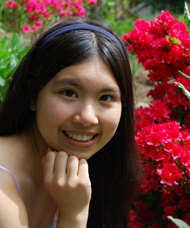 She spoke about how ideas change the world. Yes, action changes the world too "just words" can make a difference. When she went into this segment of her talk, you could hear the silence from the audience, they were enthralled by what she was saying and they were just words. She spoke about the power of ideas put into words, about conversations that shape our paths. We shouldn't dismiss someone's ideas because they're "just words."
She mentioned several famous phrases followed by "just words" and that hit me. It hit me hard when she said: We hold these truths to be self-evident, that all men are created equal, followed by "just words"; I have a dream, followed by "just words"; Ask not what your country can do for you, but what you can do for your country, followed by "just words". Having been a TED speaker, and a published author already, you will be hearing more about Adora in the future. To me, she embodied the theme of the TEDx event: "Beautiful Minds."
The event went on for two days but I had to leave about half way through the second day because I had to attend my Dot Com Lunch meetup. On the first day, however several of us went out to eat at Claim Jumper and had a great time, that's what the food pictures are all about. Even though I left early the second day, I still learned a lot, and had a great time.
I'm looking forward to next year's event! Make sure you mark your calendars and join me, tickets usually go on sale late in July or early August.