What Can I do with a your Free Website?
That's a pretty good question I get asked a lot. When I tell people that they can get a free website with me or many other places online, They wonder what exactly they can do with such a free website.
There are many places online that will provide you with a free website, but let's get something clear. Not all free websites are the same, and to be honest, there aren't any truly Free websites out there. They all have a catch or simple requirement you must fulfill before you can get the free website. By the way, I tell you right now my offer is the best one out there, just in case you were wondering. But it isn't free either, after all, nothing is really free. Except maybe Free Lunch Friday.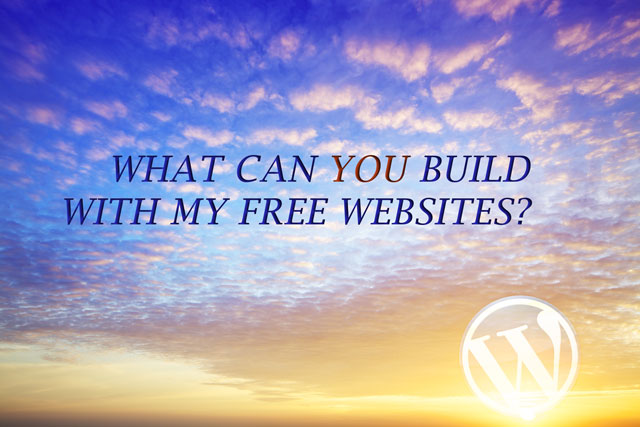 Some free services offer you a free website in exchange for your information. You give them your name, email, address, all that stuff, and they let you have a free website. They might use that information to send you promotional items or promotions that may or may not be interesting to you.
Other systems give you a free website, but you have to pay for upgrades or to have your name in the domain name instead of their name. Of course, a website with your own domain name is highly recommended because it shows more commitment from you towards having a presence online. These examples are also known as hosted solutions because they are "hosted" by someone else. like WordPress.com Blogger, Typepad.
In my case, I build you a free website because if you buy from the recommended hosting service, then they pay me a small commission. The commission allows me to then give you the best WordPress installation you'll find anywhere. Really. But So What?
What can you actually do with a free website like the one that you can get from me?
Here are some examples of ideas you can do and after that there are some links to some live examples of free websites built with my free website service.
Start a store online. Sell your stuff, products or digital downloads.
Start a Blog. Have something to share with the world, start a blog and share it already!
Create a photo blog. With the right plugins, you can start your very own photoblog. And yes, you can sell your photos online too!
Start a Social Network. You could start your very own social network to support a specific cause or movement that you want to share online.
Put your brick and mortar business online. Give it online prescence and let it be found when people need you.
Create a video channel. take a look at my Notagrouch TV. You can see all the latest youtube episodes from my channel.
Have your own SEO Control Panel. Instead of WordPress I can install a SEO Dashboard for you to manage your keywords and websites. Great for SEO agencies.
Start a Baby Blog. Check out Claire Elise's Baby Blog, this is how all the relatives and friends stay in touch with Claire's life.
Build a community Blog. Keep your members abreast of the changes happening in your organization with a blog and allow other members to contribute as well.
Create a curation center. See 30DBC.com, part of the 30 day challenge aggregation for #30DBC
Advertise your band's concert tour dates and locations.
Build your resume online. What a better way to find your next dream job than by making your own online resume!
Imagine your own use for a website, especially if it's free!
Examples of sites started with my free website service:
Some of these have had custom logos, or customization to the themes to make them stand out even more.
Ultimately, the free website is a platform for you to grow and do whatever you want. If you use a premium theme, or a really cool theme that you find on WordPress.org, or even one of the themes I install for you then it's all up to you. What kind of stories are you going to tell, or how are you going to interact with other websites and communities. The huge world of plugins and themes available really help you get almost anything started and it saves you time and money. The sky is really the limit when it comes to the options you have when you have a website.
If you'd like to check out the offer, visit the page with all the information about my free website offer.