WordPress Bloggers – This plugin will Increase your Optin Rates.
One of the things that has helped me build trust with clients and develop their business is this plugin for WordPress. I use different ways to grow my email lists and those of my clients. This is one of those ways; installing AND using this plugin I'm about to tell you about.
Keep in mind that I use only a few premium plugins for WordPress. And yes, I make money if you purchase some of them. I explain how in my book.
Optinmonster is awesome and I encourage all my clients to implement it as soon as their website is up and running. You can check it out here: Optinmonster. It is one of the best paid plugins I recommend; believe me, it is worth every penny.
Let me tell you a few reasons why I am a big fan of it. It's made by my buddy Syed Balkhi. Founder of wpbeginner.com and other amazing web properties. The plugin has pedigree. It is here to stay and I wouldn't put so much of my lead generation budget into it if I didn't trust it and count on it 100%. This is in fact the reason why I promote it instead of other competing products. I think it's the best out there.
But let's look at some other reasons.
Powerful and Versatile
Optinmonster can do things like this lightbox pop-up: Click here to see it live on this site.
Optinmonster can also add those little slide boxes that come from the side as you scroll down a website. I'll implement some of those as well.
As you explore more of the features that are available with Optinmonster, you'll see why it can increase subscription rates and prevent visitors from abandoning your website. You'll see why I recommend it.
Done for you Themes, or Create Your Own
Once you have installed it, you can create a lightbox like the one I'm using here. You can use one of the pre-made templates or themes and just fill in your information. Or you can create your own graphic or have a graphic design person help you with it, you just need an image that is 700px by 350px to get the size I'm using.
It is easy to use and to customize and after just a few minutes you can have it connected to your email list service like Aweber, or GetResponse, Mad Mimi or others.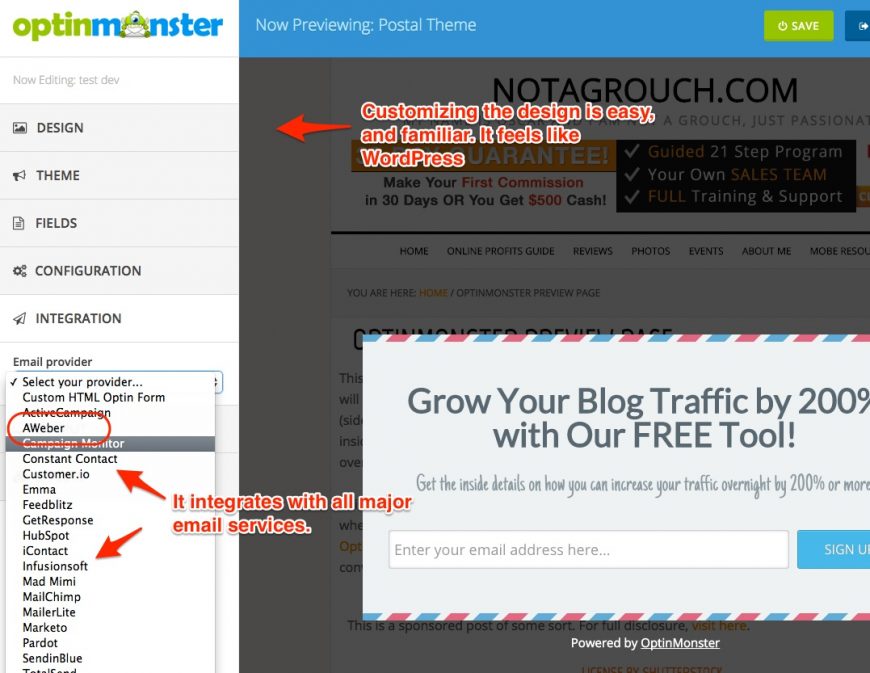 Another reason I like it is because it is flexible. I can have it show one type of optinbox on one page and a different type in another. This way I can show one type of sign-up box to one visitor and a different type to another visitor.
It Feels Like WordPress
Optinmonster feels right at home in WordPress. Unlike many robust plugins, Optinmonster sticks to the "WordPress feel." The live preview screen when you're editing your boxes is pretty cool and it works great. I love it that the image management is all done natively through WordPress.
Many other plugins like to manage that stuff and get stuff totally messy in your WordPress site, not this one.
Automate Your Segments and Split Test
I love automation, you should know that by now!
With Optinmonster I can immediately start reducing abandonment rates.
And if I want to get fancy Optinmonster can do A/B testing. It is easy to setup that up as well. You've heard people tell you to split-test your buttons. Split test your copy. All that stuff matters and can always be fine tuned.
This plugin allows you to do that.
For example, you can create a box just like the one I'm using here (link above) and change one thing to see if that makes a difference to people when they sign up. One of the forms can have an orange button and the other one can have the same button but green.
After a good amount of statistics (included within the Optinmonster dashboard in WordPress), you can tell if the change in color made a difference at all.
Instead of color you could try a different sub-title, or a different graphic altogether. The choice is yours, but Optinmonster will let you do that.
All around, one of the questions I keep getting from the book is if I really use Optinmonster. And I really do and I really love it. Remember I told you there are only a few plugins I recommend paying for. This is one, and I would tell you the same thing even if I didn't get a commission from them.
It's one of my go-to plugins, you should go get it and start using it. Click here to get Optinmonster.