Blue Yeti USB Microphone Review & Comments
This is my Blue Yeti USB Microphone Review and some comments. Here's a little background first. I'm preparing a series of new video training and new podcast. I'd been doing videos and other voice recordings with a cheapo Cyber Acoustics headset. It works great but the sound is not the best.
I got a chance to use a much better headset for a while. The Logitech Gaming Headset G330. The sound comparison between my first headset and this Logitech one was like night and day. Clearly I had been missing out. So here it is, the Blue Yeti USB Microphone Review.
I realized that if I wanted to produce better videos and really put out a good podcast this year I would need a good quality microphone. So this is what I ended up buying and I'll tell you about it.
Blue Yeti USB Microphone Review
After a some searching and deliberating, and about a week of reading specs, reviews, and searching for pricing I decided to get the Blue Yeti USB Microphone.
Here are my initial thoughts on the Blue Yeti. And it's just been about 12 hours since I started using it. Later part of the review was completed after using the microphone for about a week or more.
Blue Yeti USB Microphone Review & Sound Comparison Video
If you just listen to my older videos and then listen to some of the new videos I'm putting out, you'll notice a big difference. But to be sure, here's a video I made to go with this review. It gives you an overall look at the microphone and I switch back and forth between two different sources so you can hear the difference.
Let me explain why I needed this
I need a professional sound when recording podcasts and videos for youtube. I needed reliability over portability and I wanted the device to be versatile so I could use it for podcasting, interviews, or group interviews. You see, some people are witty, some people are pretty, some people just have charisma so their videos come out great even without trying.
For the rest of us, I found that The Yeti had the best mix of quality & price. My Blue Yeti USB Microphone Review isn't the first one. This microphone has many reviews and many are positive so I knew this would be a good purchase but I didn't realize it would be so good. But it is this same reason that made me write this review and share this microphone with you.
In case you didn't know,one of the most important aspects of your videos is the audio; the sound quality of your recording should be the best you can come up with. The Blue Yeti recordings I heard online sounded really good in comparison to other mics in the same price range.
To be fair, my review isn't a comparison based review since I did not personally test the other devices, but I thought this was all I needed and I think I was right. And I had the same way to judge all the products available. Pictures, videos, recordings and testimonials.
The Yeti offers very simple operation (I'm not a sound guy), but it gives me four modes that will produce different type of recordings. These are ideal for most situations. Exactly what I need to make my content better and my job easier.
So what about my budget?
At just under $100 this USB microphone promised all that I needed at a price that wouldn't empty my wallet. My budget was $100 from a gift card from Christmas, and about $15 I had leftover in my Amazon account. Really, my budget was zero, but I had that that gift card to use. Thanks Mom! Amazon had the best price anyway, check it out there.
For all intents and purposes the microphone was free for me. So even better right?! Unless you're lucky like that, you'll probably find the best price here.
I didn't expect this for another 5 days, so Amazon wins with early delivery for free shipping which usually takes 3 - 4 days, sometimes up to 7. This was here in 2 days.
Getting down to business.
The microphone isn't exactly portable and I'll tell you the one bad thing about it so far. It's minimal but it's one of those "bummer" things that I wish someone had told me before. And so here is your heads-up if you decide you should buy this microphone.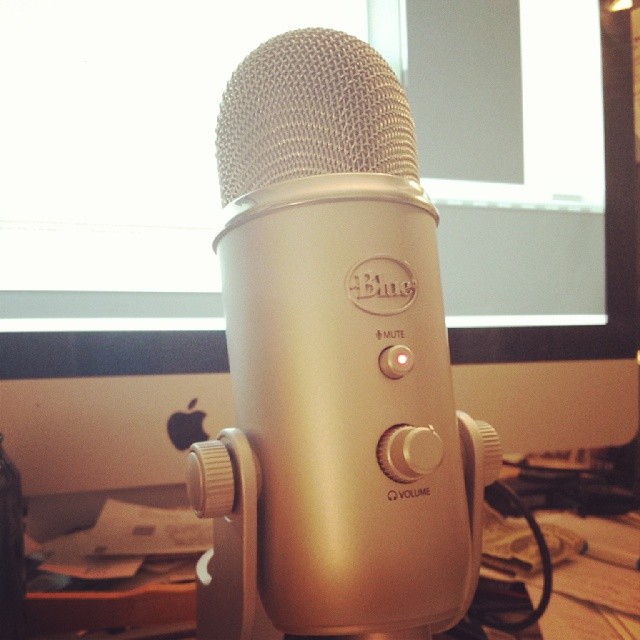 The unit is very heavy, which is a good thing in most situations, but when you're adjusting it you will loosen the knobs on either side of the microphone, or maybe just one side.
Be careful when you do this because if the microphone is tilted a little bit away from you then it can easily "drop" past the upright position and it will hit its base. Because the microphone is quite heavy, if you're not careful you could end up like I did, where the microphone tipped over, and hit the base hard enough to chip it just a little bit.
And it just so happens that the shiny ring around the microphone, as seen in these pictures perfectly lines up with the base at the point of impact in the most inconvenient spot to make contact.
That's about the only negative thing I would be able to say about the microphone. Well, that's not true, I wish that Blue would offer a case made for this microphone. I couldn't find one. So I repack it into its original box whenever I am going to take it with me. That's okay but a nice case would have put this over the top even if the case added $20 - $30 to the price.
After a Week
I've now been using it for about a week and I still really like this microphone. Over all, I would say that my Blue Yeti USB Microphone Review is a positive one.
Here are some of the features of the device:
Tri-capsule array - 3 condenser capsules can record almost any situation
Multiple pattern selection - cardioid, bidirectional, omnidirectional & stereo
Gain control, mute button, zero-latency headphone output
Perfect for vocals, musical instruments, podcasting, voiceovers, interviews, field recordings, conference calls
Plug 'n play - Mac and PC compatible
So I can tell you that the 3 condenser capsules means nothing to me. I have no idea what that really means in terms of the components of a microphone, but I can tell you that this design that they claim as a great feature is part of why you get such high quality sound with this mic.
All the other features are nice, and I didn't realize how much I would use the monitor headphone feature. This is where you plug in a normal set of headphones, like from your phone or ipad or whatever into the output of the microphone and you'll be able to hear yourself as you record. It's not that I like to hear myself speak, but in this case I do.
All in all I would recommend that you look at this microphone if you need something better than what you have right now. If you have more than $250 to spend, then maybe another mic would be good but if your budget is around $100 and you aren't looking for light-weight device, then this might be perfect for you.