Orange County Food Review: Urban Seoul
We at the Dot Com Lifestyle group, like to go out and eat. If you haven't done much networking in the past then you may not realize that most of the business transactions of the world are done outside of boring meetings and boardrooms.
Be it golf, cocktail hour, dinner parties or simply lunch. This is why we meet for lunch every week. To bring people together so that we can talk and see what we're all up to.
So this time the Dot Com Lunch meeting took place at Urban Seoul. Urban Seoul, like many of the places we frequent, is located in the Diamond Jamboree Plaza in Irvine; one of the newest outdoor shopping malls in the city.
It is a small place tucked away in plain sight. This is one of the reasons we never noticed it before. It is very easy to miss if you don't know where it is. But with that aside, once you find the place then you are in for a treat.
The reason we went there is because I've been on a Korean Taco craving mood lately. Las Fajitas near Pho Ba Co had Korean tacos for a few weeks but then they stopped serving them.
I also had some great tasting Korean tacos at Mochilato, but they took forever to come out and weren't worth the price.
The tacos you can make at home like you can see in this video are really the best because you can put whatever toppings and seasoning you want. If you know how to cook and want to spend the time doing it.
But back to Urban Seoul. Let me show you some pictures first.
The manager on duty was really friendly and quickly explained the menu. I had an idea about what to expect but it was nice to get a proper explanation.
If you have never had fusion cuisine, then you're missing out. This combination is Korean/Hispanic.
The pork belly is used in a lot of the dishes here and with good reason. It is unbelievable. I probably haven't had pork belly this good before, ever. And I've paid some fancy prices for pork belly. Here? It's just part of their everyday fare.
Here is why I came to Urban Seoul. Their Korean tacos. I went with the pork belly order of three. They have other choices and I really wanted to try one of each but you have to order them in sets of three unless you come in on Taco Tuesday.
They were damn good, the perfect blend of flavors with a spicy flare. Squeeze a little bit of lime and this is as close to heaven as you'll get during lunch on a Monday.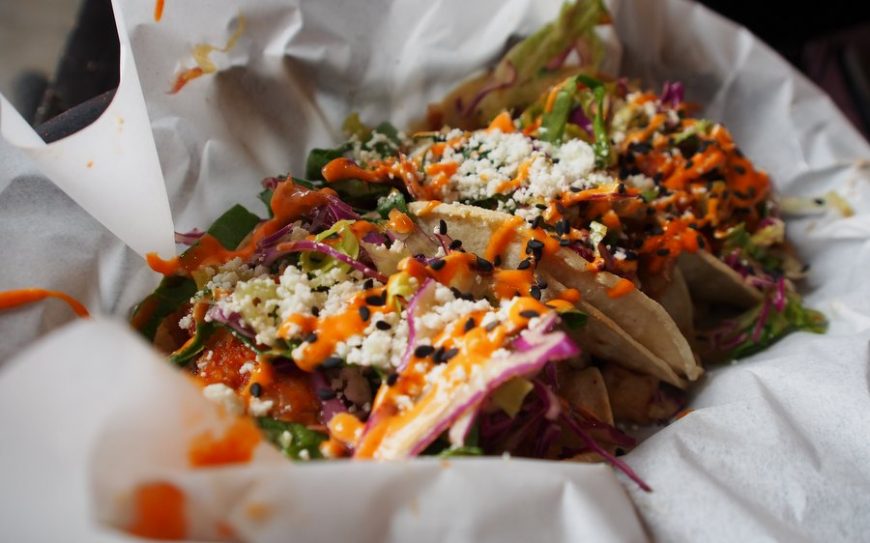 If I had to describe Urban Seoul in one word, it would be: Amazing. You gotta go try it, and now they have a second location, Urban Seoul 2.0 at the Irvine Spectrum.