The Burger Review: Umami Burger Costa Mesa location
Got a chance to visit with two of my good friends, Steve and David. We grabbed lunch at Umami Burger in Costa Mesa. The place has been making a lot of waves in the burger joint channels in Orange County.
People talk about the delicious scrumptious burgers you can get here. They say "Five Guys' got nothing on these guys" "In and Out... in and what?" I've even heard people say "it's better than The Counter" Better than The Counter is almost impossible because The Counter makes YOUR favorite burger, but I digress...
My honest opinion about Umami Burger is that I don't get the buzz. I liked the burger, don't get me wrong. It was tasty and fulfilling. The crispy wafer was a nice gimmick.
But as I thought about it more and looked around the restaurant more I wondered. What else will I find in here? There are so many things going on with the dishes that it's hard to appreciate individual flavors or the carefully crafted food. It seems that my friend Anita also feels the same way about Umami Burger.
Let's just say that they didn't get a glowing review. She reserves high marks for the best of the best and Umami didn't quite get that.
I'd give it a 2.5 - 3 rating. Maybe more so in the lower end because of the price. And I don't know... they just tried too hard to impress. It seems to be working too, people are gobbling up the idea that, ooooh ahhh they have "real" Coca-Cola.
Go to the local supermarket and you buy yourself a six-pack of that. What's the big deal? If you order a regular drink, apparently you get one refill, really? One refill? for a 10+ dollar burger.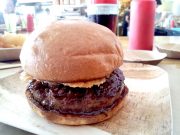 Something I found very gimmicky was their plates. They're made out of banana leaves or something, maybe straw. The truth is that it seems ridiculous to pay for these plates.
I get it, they're recyclable but how much are these? And whatever happened to just regular dishes that you wash and stuff? It seems that a good washing system with water conservation put into the mix would be better for the environment and our pockets.
Overall, I'd go back for another lunch with friends or something but I don't know that I would go back to Umami burger.