Why, Yes! You Can Pick My Brain, Here's How You Do It
Can I pick your brain? That's a question I get asked all the time. Generally the question is code for "I want your help but I'm not going to pay for it" Many people think that it's okay to just pick your brain and ask you all kinds of questions that you would normally be compensated for.
Granted, sometimes people don't know that it costs time and money to learn what we know. To develop our skills to a point where we can answer any question related to our work.
All of us that have a technical skill often get used and abused when it comes to our expertise. People ask questions and advice and more questions and advice and then again.
It is no wonder that authors like Adrienne Graham have come up with entire reasons why you can't pick their brains. Seriously, she wrote a whole book on the matter, titled: No you Can't Pick my Brain, it Costs Too Much.
I don't mind anybody asking questions, but it's the expectation that I should answer them every time for free that bothers me.
Even worse than people displaying an obscene amount of entitlement, is when people ask you for a guiding light but they don't follow your advice. And they do this over and over again. By the way, I found from my buddy Justin aka Big Head Asian, that those people are called Askholes.
That inspired this ee card: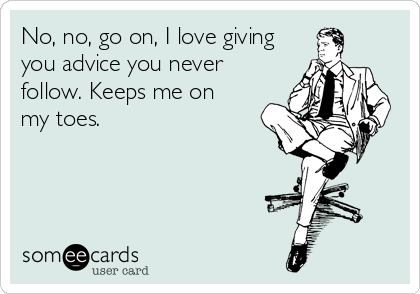 So I came up with a solution for everyone that would like to ask me questions. And I'll tell you what options there are to "picking my brain" next.
One, ask me on Twitter. If I can answer a short question in a tweet or two and I have time, I will.
But help me, help you. The best way to get my attention or for me to answer a more involved question is for you to ask the question in the blogpost that inspired the question, just scroll to the bottom of the post and your question as a comment.
Once you post there, I will try to respond within 12 hours and it also helps other readers that may have the same or similar question.
When you post a question in a comment you not only get faster responses, but you actually help me by providing more information about the conversation on that particular blogpost to everyone else interested in the topic.
If you must, you can email me. By emailing me, you consent for me to use the email in any way which I see fit, whether for fun, profit, educational purposes, or any other purpose. You should email me when the question may be sensitive in nature or I've already asked you to email me personally.
More Bang for Your Buck
But the best option is for me to lend you a listening ear for an hour or two, the best way for me to give you some feedback, help you brainstorm. The best way for me to answer your question or find some clarity is to spend some time together on the phone. And you can do that right now, simply head over to this site and schedule an appointment. I am usually available within 24 - 36 hours unless I'm traveling.
Here's a short video that explains how to make an appointment if you need some help with that.
Why should you pick My brain?
I have over 13 years of experience doing what I do. I don't claim to have all the answers, but I usually know what you need, why you need it and when you need it. In those cases I don't know the answer to your challenge, I will most certainly know where to find it and how to help you find what you're looking for. But don't just take my word for it. Check out some of these testimonials:
I had a consultation by Oscar and I am so glad I did. As I plan to focus more on my online business, I wanted to clarify the direction and the best strategies with my existing websites and social media presence. Oscar is very knowledgeable and clearly explained what to do and why I should do them. He is also very resourceful and I'm excited to implement the recommended tools that will help me save my time. He is highly recommended!
Source:Clarity Yasuko Kawamura
Hi Oscar! First of all I want to thank you for speaking with me. Second I want to say is that you gave me some valuable information. You sure do know what you're talking about. You were a big help. I would recommend your services to someone else without even hesitating. Thank you very much! I look forward to working with you and making 2014 my best year ever! Once again, thank you...
Source:Clarity Salvatore Lombardo
I just finished a one hour consultation with Oscar about the pressing issues in my business. He gave me the most useful advice I've ever gotten in a single hour this year. He explained to me in detail the specific steps I needed to take to help my business grow. He explained the concepts, processes, and how to actually apply them to make it all work. I would highly recommend anyone who needs help with an online business to ask Oscar for help. He's a true technical and marketing genius!
Source:Clarity Reid Yamamoto
There are also some video testimonials here. And some more related to my website services over here.
After all that, I'm different from the rest of the experts out there. I want to help you, so YES, you can pick my brain. Let's have a dedicated pick-my-brain session get started here.
Also, if you are in the Orange County area you can take me out to lunch or dinner and pick my brain over our meal. The cost of that is $450 up front + the cost of lunch or dinner.