ConnectOC The Networking Event from Orange County Makes a Comeback – Day 10 #30DBC
Last Thursday I was lucky enough to attend probably one of the best networking "fun" events I've been to in Orange County. I say lucky because I completely had forgotten about it until just a couple hours before the event. Facebook doesn't really do a good job of reminding you that you've RSVP'd for an event, but that's a story for a different blogpost.
ConnectOC is the brainchild of Debbie Miller from Social Hospitality, Neal Shchaffer from Windmill Networking and apparently 10 other members. And it started a few years back as a way to meetup for dinner, lunch, drinks or whatever else and have some face-time. We are all on Twitter, and Facebook and we go to professional networking events and all that kind of stuff but there wasn't anything to "just hang out" and get to know each other at a more personal level.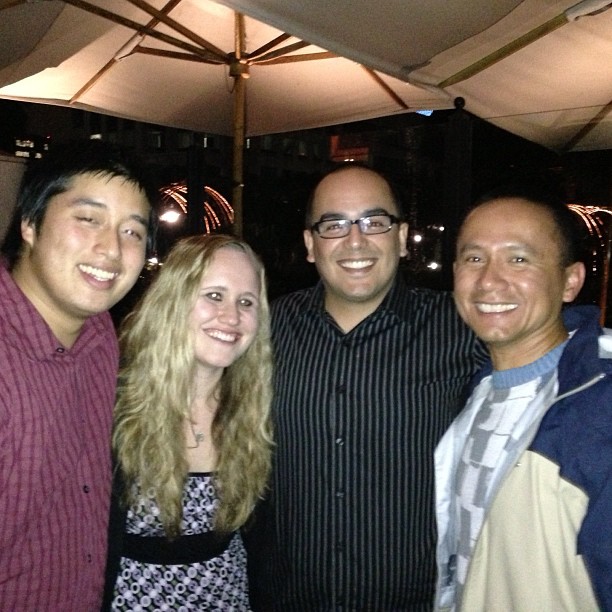 ConnectOC is making a come-back and they hit a home-run on their latest event. IL Fornaio in Irvine was a super gracious host, providing all drinks and food. And let me tell you that the food at that place is awesome. The only downside to the event really was that it rained a little bit on and off, and the event was held outdoors. It didn't really stop anybody from having a good time and enjoying each other's company.
IL Fornaio provided big patio umbrellas and patio heaters to keep us mostly dry and warm so the rain really wasn't a problem. I would say that it even helped us all get a little closer as we huddled under the cover of the umbrellas to avoid getting wet.
The who is who of Orange County Social Media was here and if you didn't make it for some reason, you definitely missed out. You could have had a chance to meet Bob Watson and his lovely wife Kathy from the amazing SMMOC. Sarah Wefald, music social media rockstar, she handles the likes of Social Distortion and other rockbands. Marcie Taylor aka Suburbanmama and her husband also were there for a much needed outing without kids. And of course, our hosts Debbie Miller and Neal Schaffer.
I also got a chance to catch up with Jim Walery and Carolyn Santaniello after a long time of not seeing them in person. You see, there's only so much you can do on Twitter or Facebook; face to face interactions with the people you like and share daily moments with online are always refreshing and invigorating. We must have more events like this. Take another great example of the power of real life events based on social media interactions. Reggie aka OakleyOC and I've tweeted each other, follow each other on instagram and other various networks, but after 2 or 3 years, this is the FIRST time I meet him in person and we had a blast "catching up".
Of course, I got a chance to meet about a dozen other great people that I would have probably never crossed paths with just by tweeting and staying online. So next time you hear of ConnectOC, make an effort to get your butt out and have a drink with us. Provided I'm not up to my eyeballs with my new baby, I will likely be there and I'd love to meet you too.
Thank you Debbie & Neal for putting this amazing event together and Thank you Il Fornaio for being such a gracious host.