It's official, my new theme is Customizr.
I was going to do a review of three themes and tell you why I picked one over the others. I had quite a few problems with my previous theme so I had to do this.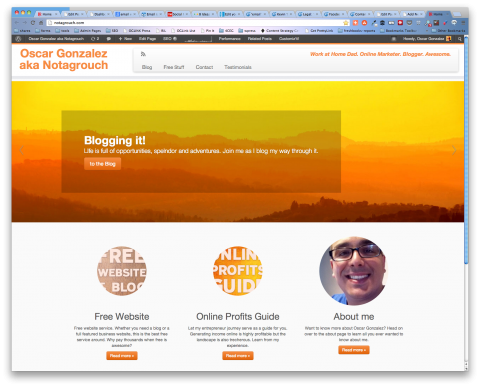 But truth be told, I don't have a lot of time to muck around with testing, reviewing and testing again. I started working with the Customizr theme and I will stick with it for the time being.
Customizr is free and you can find it on the WordPress.org repository and it has quickly become one of the more popular themes on there. It is built by Nikeo and it seems that this may be his first public theme. Good for him, it works great so far.
For being a free theme, it's pretty cool because it is responsive and it has a lot of configuration options to help you adjust sidebars, the slideshow and other elements. One of the things I like about it is that it uses the built-in wordpress customization system instead of some unique higher-than-thou I-do-my-own-way approach to customizations like most other themes do.
After about two hours of adjusting it, customizing a few images and placing things where I wanted, this is what my homepage looks like. I'm still working on it and will probably finalize it in the next week or so but it's a start and it's way better than the canvas theme I was using before.
I'm still using quite a few plugins to do some of my special customizations and configurations but I will cover those in an upcoming blogpost. This theme is good for advanced users because everything will be easy to find and you can also customize it further by using CSS. And if you're a beginner, this is a great theme because it offers a way to customize most of the parts of the theme without having to code anything. It's a great theme for beginners or advanced users that don't want to spend a lot of time polishing little details or designing layouts from scratch.
It's good enough that it will be added to the themes available for my free website service. So if it's good enough for that, it should be good enough for you too!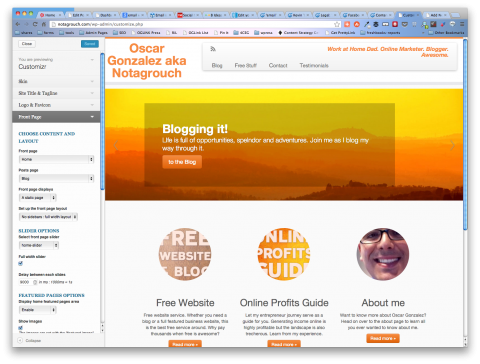 If you're looking for a new fresh theme for your blog, you may want to check it out. I like it and will be using it for now. The only thing I'm not sure about yet is whether I will keep the slideshow on the front page. I'm thinking I should remove it since most people don't stick around in one place just to see 3 or 4 slides fly through.