Is Leadpages faster than WordPress?
You may have heard about Leadpages. Leadpages is a marketing platform that lets you create landing pages.
It's pretty awesome and I've been using it for the better part of 2 years now. They keep adding new useful features but one of the things that sets them apart is their speed.
You have also heard of WordPress, I hope. WordPress is a content management platform that lets you create landing pages, blogs, pages, forms and more. It is free to use but you have to pay to have it hosted somewhere.
Both Leadpages and WordPress are standalone products and both can do some similar things, but they also work together if you use the Leadpages plugin in your WordPress installation.
Leadpages lets you use their full infrastructure to create and promote your landing pages, but you can also make it work with WordPress so your landing pages are inside of your domain even though Leadpages is hosting them.
Take for example my new landing page for my book. Here are two examples of pages that illustrate what I said before.
1) Using ONLY Leadpages: https://websystem.leadpages.net/work-anywhere-profit-online-free/
2) Using Leadpages on my own domain: notagrouch.com/work-anywhere-profit-online-book
Those two pages are identical except for one thing. One of them is displayed through my Leadpages account, while the other one is displayed here on my notagrouch.com domain.
The benefits of using option 1 is that you don't need a website of your own. You pay for Leadpages and you can start building pages immediately, like option 1. The downside to this is the URL branding; notice it says "websystem.leadpages.net." Some people would prefer to have it like option 2, under their own domain.
The key benefit of having your pages hosted in Leadpages exclusively is that you'll get the fastest speed possible. When you use the Leadpages WordPress plugin to bring in your landing page under your own domain, like option 2, then you will give up some of that speed.
In my testing, the speed difference has been significant, between 1 and 1.5 seconds.
One or two seconds may not seem like a big difference but in the world of websites, speed can make or break your business. Most people will wait about 3 - 4 seconds for a page to load, that number is decreasing fast as websites improve. It is critical for your pages to load as fast as possible.
Check out the test between the two different methods of loading the same page.
Method 1, Leadpages directly.
Load time 1.99 seconds, size 729.3, grade 86/100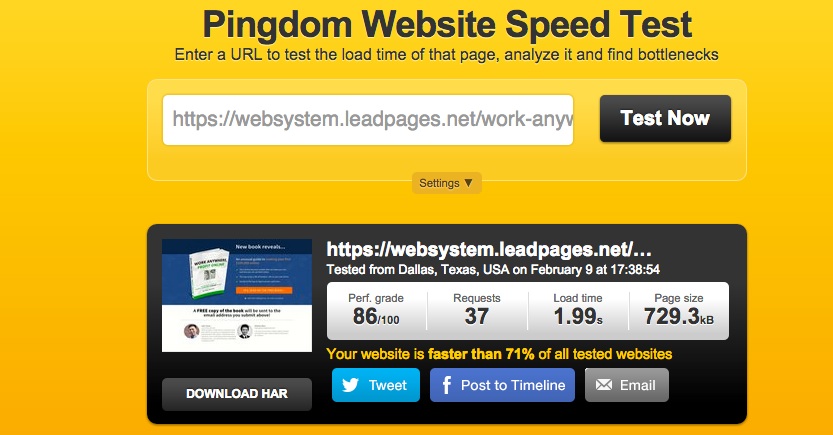 Method 2, Leadpages using WordPress plugin.
Load time 2.74 seconds, size 756.6, grade 86/100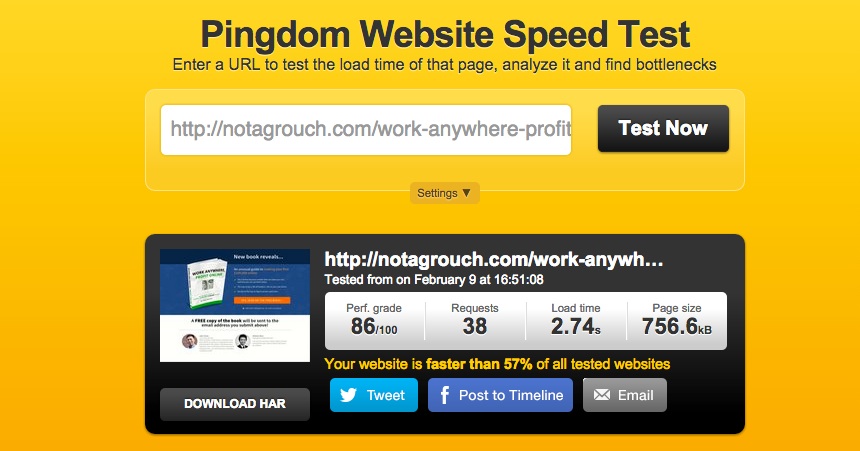 Almost a second slower when using WordPress. This could be for a number of reasons which we won't get into, but the important part is that Leadpages is built for speed; use it for your most critical time-sensitive pages that need to be served fast.
Use Leadpages with WordPress when you want to extend the branding of your own domain to your promotions, but a slightly slower speed may not be a big deal.
Overall in a simple test like this, page to page I have found Leadpages Always performs faster than Leadpages with WordPress. If you think you want to check out Leadpages, I would recommend it for sure. I use it and recommend it to most of my clients.