How to Grow Your Twitter Account
You may love Twitter or you may hate it. For some people Twitter is the most important social network while many people feel that Twitter has had its best days already and it's time to sunset it.
I don't care how you feel about it, when you use it correctly it can be an effective marketing tool. You can meet new people that align with your point of views and you can also find challenging ideas that make you think outside the box.
You can find prospects, leads and clients on Twitter. You can find new partnerships. You can learn about your competition. You can even advertise. I have met dozens of people that became my friends, Twitter has enriched my life financially and emotionally, probably more than any other social network.
I think Twitter has a lot of potential and to ignore it seems like a foolish proposition. If you aren't using Twitter already, I encourage you to start today. If you are using it and you aren't getting results then I encourage you to try new strategies and tactics to make Twitter fuel your path to achieving your goals.
Here is the thing with Twitter. Twitter is noisy, twitter is busy, it's a crowded space. You need to stand above the rest if you want to garner attention and develop trust.
If you'd like to follow me on Twitter, you'll find me here: @Notagrouch.
But HOW do I stand above the crowd?
One of the easiest way to do this is to grow the number of followers you have. Many people will tell you that it's not about quantity. It's "all about quality" they say, and they will tell you that it's better to have 10 really engaged people following you than having 100 quasi-engaged followers.
This is false. All things considered, the more followers you have the better. This is true for ALL networks, this is true for all businesses.
To stand above the crowd, you also need to be different. You need to offer value, you need to interact and you need to make the experience of following YOU, a special one; I'll cover that in a subsequent blogpost.
Today I want to show you how to increase your followers. In the tech community, we use the acronym: YMMV. YMMV means your mile may vary. What I'm about to show you works and is incredibly effective, but YMMV.
How To Get More Followers on Twitter
The first thing you need to do to get more followers on Twitter is to have the basics of using Twitter nailed down. If you don't do this, your results will not be optimal. Here's a quick list that covers some of those basic things:
Have a complete profile. Profile picture, profile banner and a bio.
Make your bio interesting, appealing, intriguing, or funny, but stay away from dry boring descriptions about what you do.
Consistently post a variety of content of interest to you. This shows some of your interests.
Post content that is informative and, or entertaining to your target audience. This shows you understand what your audience wants or needs.
And last but not least ENGAGE with followers as much as you possibly can. This means that you care.
With those basic elements out of the way then you can follow what I'm about to show you to rapidly grow your followers.
When you follow somebody on Twitter, they receive at least one notification that you have followed them in the Twitter app. The notification looks like the one below: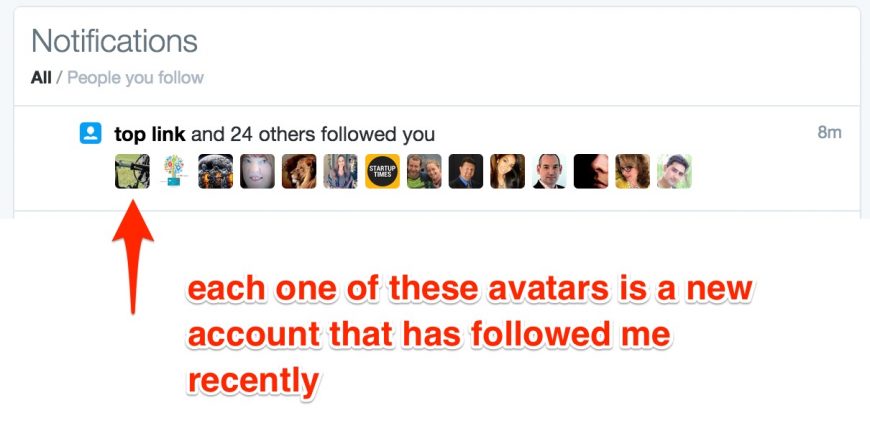 Sometimes they receive additional notifications via email, sms, or via 3rd party apps if they have turned those notifications on.
This is important because it is an easy opportunity for you to let somebody know that you're interested in them. If they are paying attention to their Twitter account, then this is a good "first touch" outreach to them.
Just as a matter of fact, many of the people that you follow, will follow you back. You can then confirm that they have noticed you. This opens up a channel of communication that could be stronger than other alternatives like emailing them out of the blue.
Unfortunately, if an account follows you back automatically or quickly after you followed them, it could be an indicator that the account is not really being managed by a person but instead it is set to automatically follow back anybody that follows it. -- You don't want to follow these accounts.
To weed out the fake accounts, or those accounts that don't really want to engage, you can then look at those accounts that followed you back and analyze them, then engage with them.
Using these techniques, in just over 2 weeks, I went from roughly 3000 followers to a little over 5000. My goal is to get to 7500 followers before my birthday on August 6. It's a lofty goal, but I think it is doable.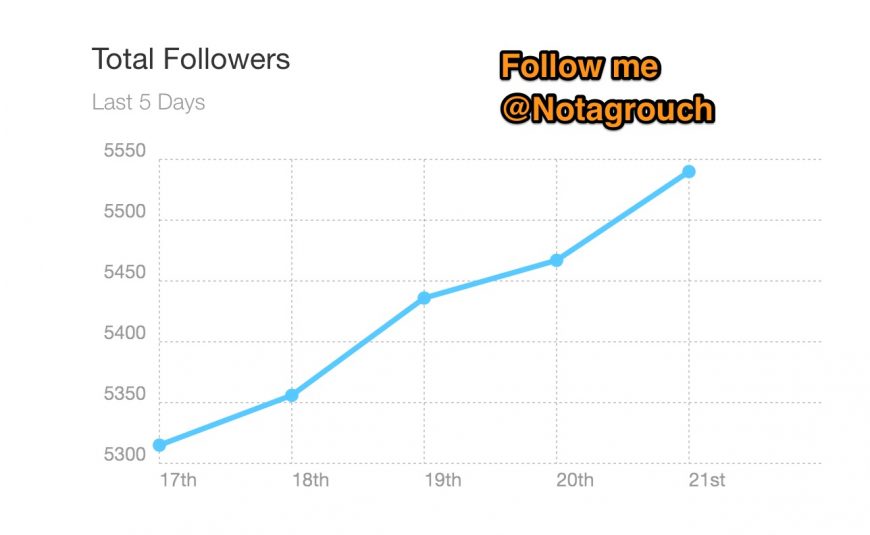 How do you engage with Twitter accounts?
First, avoid the old, tired and boring "thank you for following me" message. This message is useless and makes most people go "ugh." Instead, thank your new followers by asking them a question about their profile, or one of their latest tweets, or visit their blog and acknowledge one of their posts.
This is infinitely more effective than just saying "thanks." Whatever you do, DO NOT pitch them your product or service in your first couple of interactions. And do not direct message them to pitch them either.
Based on their response to your approach, you'll be able to determine if you should continue to follow them.
For example, if you see that they have posted links in the past few minutes or hours, but they take 2 days to respond to you or don't respond at all, then most likely they are just posting links automatically. Maybe they are not a great account to follow.
So how do you find new (good) accounts to follow?
There are a few ways to find good new accounts.
One way is to use the search feature in Twitter to look for keywords and topics that are in line with you and your purposes on Twitter. Another way is to look at the accounts that are the leaders in your niche and look at their followers, then try to attract those followers.
You can also look for the trending topics on Twitter and find people you may find interesting there.
The numbers matter. The numbers matter a lot.
Twitter is a lot about talking to each other and learning from each other, but by definition, Twitter establishes that there are "followers" and there are leaders.
You want to be a leader in your space or niche, so you need to keep an eye on those numbers. The numbers I'm talking about are the number of people you follow vs the number of people that follow you.
You should aim to have more followers than the number of people you follow (following).
For example, if you only have a couple hundred followers, you should not be following 1000 accounts. At the time of this writing for example, I follow around 2700 people and I have just over 5500 people following me.
This approach does two things, it helps other people follow me more easily because from a psychological perspective they think "well, all these people follow him, so I probably want to follow him too." But it also demonstrates that you care about the well being and maintenance of your own account. And a third unintended consequence is that you are seen as an authority.
[bctt tweet="In business, being an authority is not important, it is imperative." username="notagrouch"]
If you simply follow back every account that follows you, by definition you will be following a lot of junk accounts, a lot of spammers and this will just clutter up your Twitter feed. Eventually you'll get tired of all that junk, then you'll find ways to automate your own activity on Twitter and then you'll be contributing to the noise without getting any real benefit, or creating any value. Don't "followback" just because.
If you follow everybody that you find, and you never revisit them, people will see that you follow lots more people than follow you and this will come across as a "needy" or "begging" behavior. Don't do this, remember, numbers matter.
How to clean up and lower the number of accounts you follow
I explained how to vet accounts, and how to find accounts to follow. So how do you determine which accounts to unfollow?
Look for spammy behavior. When you follow an account that seems interesting, see how they respond to your interactions. Do they immediately invite you to like their Facebook page, or sing up for their list, or do they immediately send you an automatic direct message?
Many accounts have automatic messages that you get immediately after following them, 98% of the time these are junk accounts. Take a look at their posts and you will notice that they have the same message going out to all their followers all day long.
If you believe that they just made a mistake and don't know what they're doing and you really want to follow them, then ask them a question. Engage with them and see how they respond. I am willing to bet most of them will never respond, because they have the account doing all that stuff automatically, they probably haven't been on Twitter for weeks or months.
This sounds like a lot of work does it not?
This is what I've been teaching people. Twitter is not easy. It can be really rewarding if you put in the time and effort. But you don't have to do all this by hand.
I would like to introduce you to Rewst. This will show you How to grow your Twitter account.
This is a new tool that helps with all the stuff I've mentioned above. It helps you find new people to connect with on Twitter and it helps you boost your numbers, organically. It hasn't officially been launched, but soon you will see it everywhere.
In addition to managing your account numbers, Rewst (pronounced like roost) also lets you schedule your tweets in advance, suggests the best time to post and has a lot of other goodies that will make your life easier.
Finding followers with Rewst
If you want to find new people to follow, you can use Rewst to help you do this. There are a few different ways that you can do this.
You can find your Fans, people that follow you but you don't or haven't followed back. You can find all the people that are new followers as well.
Also, you can copy followers, and find new people by searching for keywords in their bios or follow the suggestions provided by Rewst.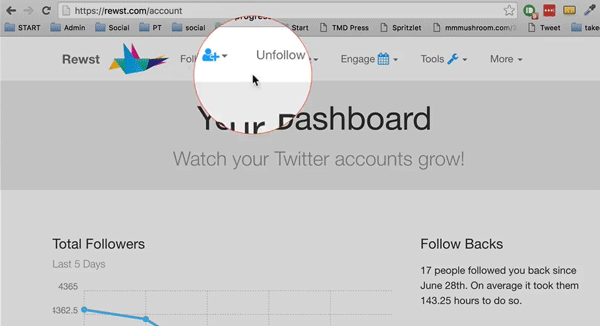 The copy followers feature works like I mentioned earlier. You enter a username that is in your niche and that has a number of followers, then you'll be able to follow all the people that follow that account. This initiates the first contact interaction that I mentioned above.

Cleaning up your Twitter account with Rewst.
I mentioned before that you should keep a ratio favoring the number of people that follow you vs the number of people you follow. This is easily managed with the Unfollow menu in Rewst.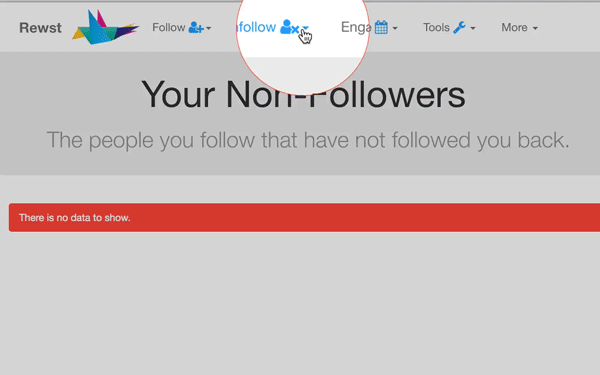 The three main ways to unfollow people provided by Rewst follow the principles I mentioned earlier.
Unfollow inactive accounts, you can also unfollow accounts that are not following you back and you don't necessarily want to follow anymore, or non-followers, and you can also unfollow accounts that recently unfollowed you.
Don't get into a habit of following people and then unfollowing them, this is not considered good practice but in some cases it may be necessary, YMMV.
If you find people that you don't want to see anymore on your searches, or copy followers function, you can blacklist them so they don't show up again. The blacklist only applies inside the Rewst app.
For those times when you still want to use the unfollowing features in Rewst, but you want to avoid unfollowing certain people, you can use the whitelist function to exclude them from this screen.
Hope this introduction to Rewst was helpful and I hope you give it a try. If you want to grow your Twitter following, you definitely have to try this. It has been the most helpful tool in helping me grow my following and I believe it can do the same for you. Check out Rewst here to get started.