MailLift Hand-written Letters to your Leads and Customers
Recently I tried out to try MailLift. Mailift, in their own words is: is a handwriting service for marketers and sales people.
It's pretty darn simple and pretty cool. You can try it for yourself for free by sending yourself one letter.
Update (about a day after publishing): This wasn't really a review because I didn't fully try the product. But I think it's fair that I give you a few more thoughts about MailLift that would make this a little more fitting of my reviews.
The service is great, just from trying the free "mail yourself a card" trial. The company contacted me within an hour after I sent in my request. They called me up by phone, to check up on everything and to confirm that the letter was on its way.
All the way up to me writing this post, my interactions with them have been extremely pleasant. As a startup, these guys are hungry, and I hope that this culture and drive they have lasts a long time.
It seems logical that a company that sends custom hand-written notes to your customers to make them feel all warm and fuzzy would make you feel warm and fuzzy when you deal with them as a customer. That is absolutely the case with these guys so by all means, give them a try and if you need them use them. I don't think you'll regret it.
This is the envelope of mine...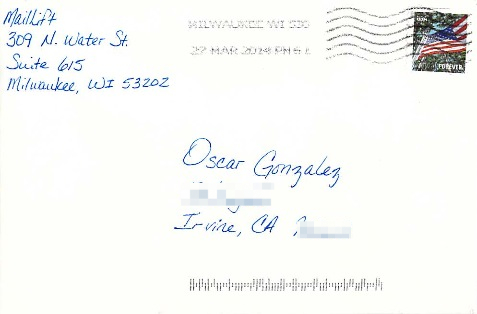 I'm showing you the envelope first because first impressions are important. Most of the mail I get at my mailbox or post office is junk mail. And you can usually tell that it is junk mail by the type of postage used.
Whenever you see "presorted" or "PRSRTD" chances are it is junk, so is almost everything else. But an easy way to spot a legitimate piece of mail is to see a real postage stamp and handwritten addresses and return address.
So this will get most people's attention. This is why I like MailLift. I don't love it because the price may be out of some people's budgets a bit high per letter. But if a sale is worth several thousand dollars in commissions or profit then it's worth sending a note using these guys.
The free letter you get looks like the one below: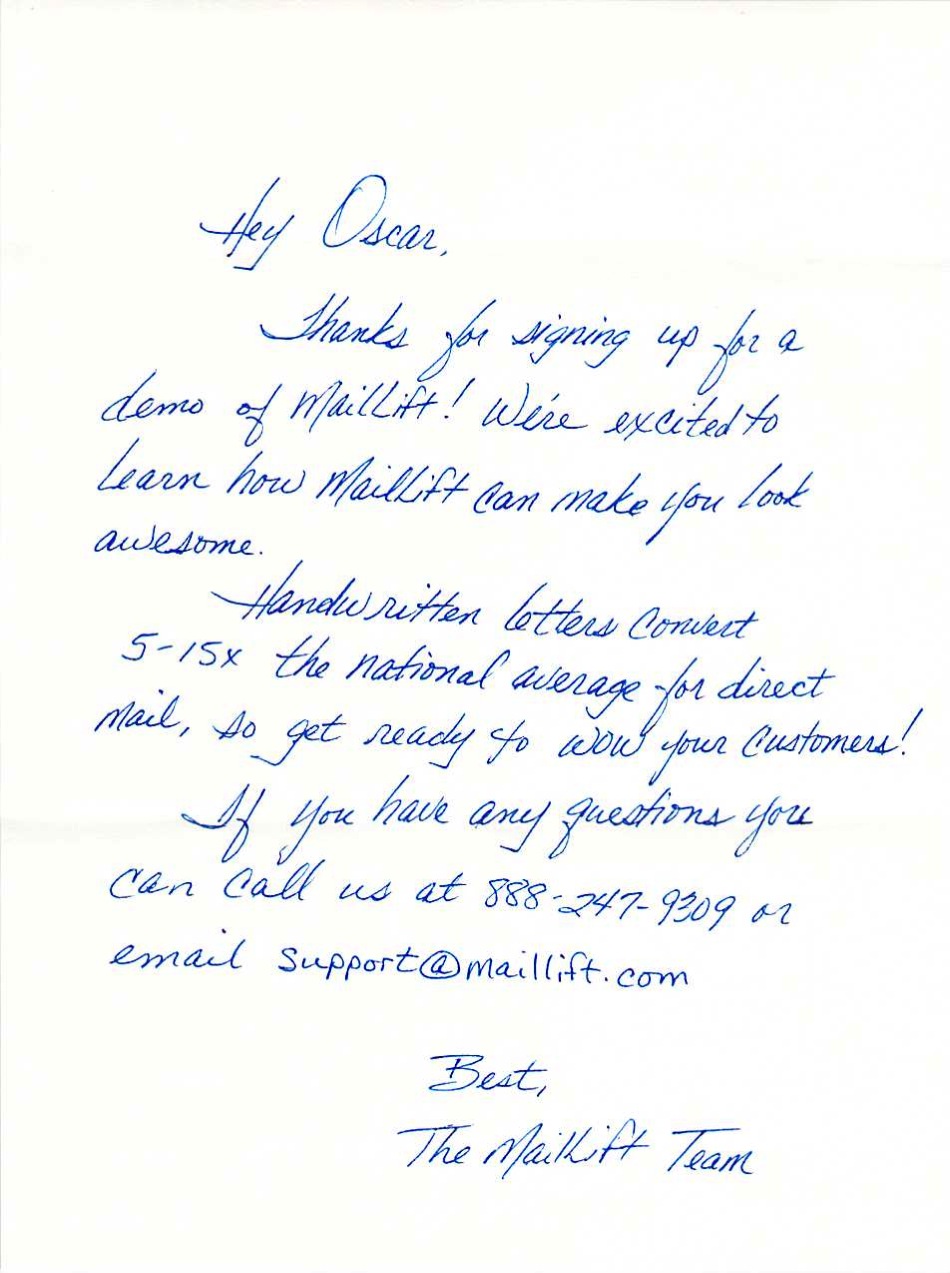 The other reason I don't love these guys yet, but still like them is because they remind me that I should be sending these out anyway and I could be doing them on my own. A pack of 12 cards costs 5 - 8 bucks and postage for all those should total you to less than 10 dollars.
We could be sending these out to all our leads and customers, but we don't so maybe there's even a bit of resentment there because MailLift makes it so easy to get this done, but it comes at a price. And it reminds me of my procrastination, ha!
But I just wanted to introduce you to them, check them out at MailLift.com and give them a try, they could be a great tool for your business in this upcoming Summer season and beyond.
They don't have an affiliate program yet, and I was told that they'll look at the possibility when and if they see interest later on but no plans for it as of yet. Kind of an egg & chicken proposition kind of thing right? But in any case what do you think about these guys?