Today Claire Elise is Five Months
Five months ago, my wife and I were the luckiest people on earth. Claire Elise joined us on Dec 6 2012. We love her. She's awesome and I thought I'd tell you that today, she's five months old. Today, my post will be short too because I've got work to do and Claire is going to wake up for breakfast any minute.
Update, 10/2016 After some time, I ended up starting a Daddy Blogger blog, you can check it out at Papidaddy.com
It's crazy how fast kids grow. Parents always tell you that they are going to grow up so fast and you'll almost miss it. And trust me, they're not kidding. Five months is not a long time, but when you ad a growing baby to the mix, the roughly 150 days fly by so fast, it makes your head spin.
Shortly after we brought her home: Claire Elise making funny faces.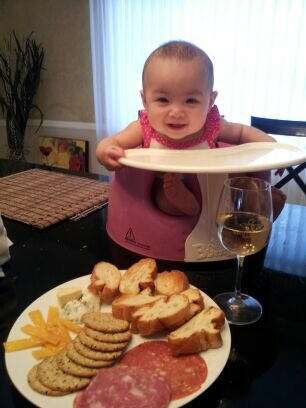 It seems that just last week we were bringing her home and making little newborn videos. Amazed at all the little things she would do. Now, we're still making little videos (check out her youtube links above) and stuff but the stuff she does is even more surprising. Juts about 3 weeks ago or 4 weeks ago now, I can't remember, she started sitting up by herself. That doesn't seem like much to non-parents, but for those that have gone through this, you know it is a little milestone. One step closer to more independence!
For about a month now she's been trying to hold her own bottle up and just recently I think she finally got the hang of it. Although if she gets distracted she'll turn her head and forget that her bottle is still in the other position so she spills milk on her face. She is also super chatty and she keeps having conversations with us, the fans and sometimes the dog. Who knows what she's telling, but she really gets into it.
With our move and rearrangements lately we haven't had a chance to post a lot of photos, but we will. Here are a few, these will also go into her own photo album on her blog.
We've been really lucky to have her and have her be healthy. She's always happy, wakes up with a smile and makes everyone else around her smile. Hopefully it'll stay that way. I know some parents are gonna hate, but she's been sleeping through the night since like week 2 or 3 so I think we've not experienced many bad nights. (knock on wood).
We have quite a few videos and pictures that we'll be sharing on her website, google plus or twitter. Stay tuned if you want to see her grow. You can follow her on Twiter too.