Media library not showing images on WordPress
You might be one of the people that are running into certain small, albeit rather annoying issues in WordPress.
For me, one of these issues came up when I tried to work in the media dashboard. I was just uploading images so I could use in my new facebook page, but after uploading each file, the images just wouldn't show up on the dashboard.
They were still visible if I went to their URL, but I couldn't access them from the media gallery view, or when trying to attach an image from a post or page.
But... they were working... just fine, earlier.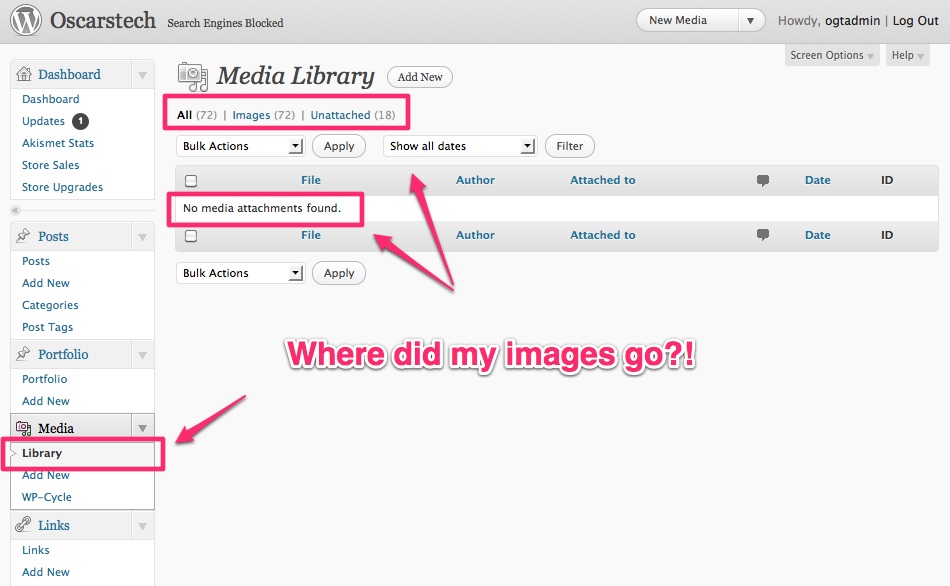 Turns out this is a bug with a recent update in WordPress and it may show up or may not show up for you depending on certain plugins you could be using. For me, the plugin that made this surface was WP-ecommerce.
It was easy to determine this because I saw a thread about this problem at wordpress.org, and then a thread at the getshopped.org forums indicated the problem and solution.
The easy way to get this fixed for now is to get the plugin called "hotfix" by Mark Jacquith. Hotfix provides quick and small updates to WordPress that haven't yet made it onto an official WordPress release.
Install that plugin, activate it and you should be good to go! By the way, this is my new facebook fan page: http://facebook.com/oscarstech and I'd love it if you checked it out, and if you like it... well, like it!