Bye Bye Genesis Themes, It's Been Good.
Over the past seven or eight years, Genesis themes have been my default to-go themes for any WordPress website I've built. But this post marks the moment I ditched the Studiopress collection of themes.
Maybe you are wondering why. I've been a proponent of those themes for such a long time and this decision may seem puzzling to some, especially if I built a site for you.
But the truth is that WordPress has evolved a lot since I first made Studiopress my main home for WordPress themes. They no longer serve my goals and unfortunately, they aren't keeping up with current trends in technology, or design.
For a long time, I ignored the quasi-documented themes with missing information or the little quirks and glitches you face with every single installation of any Genesis based theme. The documentation is incomplete and the themes aren't consistent from one to the next. Some haven't been updated in years.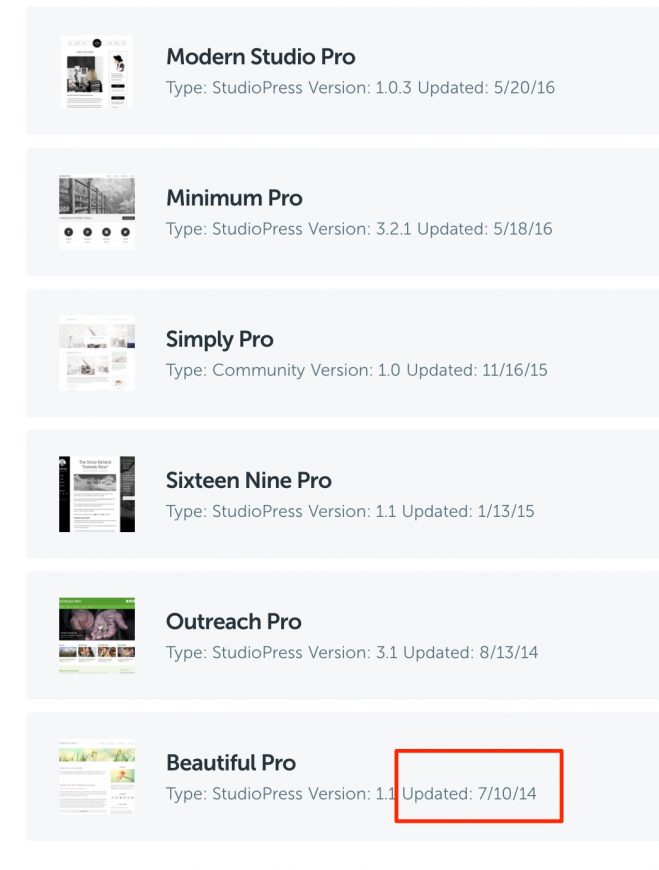 In their defense, It's worth noting that for a while I really loved the Genesis themes. I told everybody to use them, I promoted them as an affiliate. But this feeling of being left out to dry has been lingering for some time. They do have about 23 themes that have been updated in 2020, but you would think that after all this time they could have figured out a way to make the themes share the main code and make update them all every few months. Little details like this matter, in my opinion. In fact, I don't think these details are so "little" and they also speak volumes about the business decisions behind the brand; we won't get into that for now.
About two years ago, Studiopress was acquired by WP Engine. A questionable move by WP Engine my opinion, but I'm sure they had a good reason. I thought this would re-invigorate the theme collection, maybe standardize them and give them a refresh, but that didn't happen. They have since added them for free if you are a customer with WP Engine.
I thought I needed to move off of Genesis when I saw this acquisition, but I didn't. Call it procrastination or life just getting in the way. But then COVID 19 happened. That's the main catalyst that brought this change.
With some of my clients going out of business or scaling back their digital marketing spending, and some of my income decreasing due to the lockdown, I decided to go back to building more sophisticated websites for clients.
I still offer the free website setup and configuration to anybody that needs it, but as I pursue new high-end clients, I needed something more robust and modern to offer as a product and service.
What's Next?
Over time, this will happen again, things change and what's great today may not be great tomorrow.
I tried using Genesis one more time a few weeks ago, and frankly the process of getting the theme to look remotely close to my wireframe, let alone what the client actually wanted was a total nightmare. It was soul-draining and I knew there had to be a better way.
I had watched some of WPCrafter's videos about Elementor and it looked great. Based on a video from Adam Preiser, I decided to go with Blocksy, a free minimalistic but highly configurable theme, paired with Elementor.
After a day or so playing around with the Blocksy and Elementor combination, I had most of the things I needed figured out for a facelift I needed to do for a client. Shortly thereafter I delivered a the new site to the client. You can see it live here.
We have a phase two coming soon that addresses the e-commerce part, but it was critical that we revamp the front page and main portfolio. It would have taken me weeks and weeks to do this with Studiopress, and only if I didn't call it quits half way through.
Right Now...
Notagrouch.com has always been my website playground, and with a little more time on my hands right now, it was time to refresh this site. At the moment of this writing, the site is running on a plain vanilla Blocksy setup.
I haven't integrated Elementor into it yet, but I thought I would start with the theme first, complete a content and plugin audit, delete plugins, clean up other content, then layer Elementor on top. Thanks, Adam for the great recommendation!
Thank you for reading and I'll update you soon to show you how it goes.