All in One Gestures Addon breaks spell checker
For the longest time, I've had a problem in Firefox where I can't use the built-in spell checker; the suggested corrected words don't show up for me to pick from one of them. This blows! This morning I decided to end this suffering and find the problem, surely it had to be an extension.
I disabled three extensions at a time, hoping to find it quickly but that didn't work. I tried some logic thinking that I should disable the most intrusive plugins I had and see if those were the problem, I went through and disabled things like firebug, webdeveloper, anything that overlays stuff, anything that adds something to the browser window...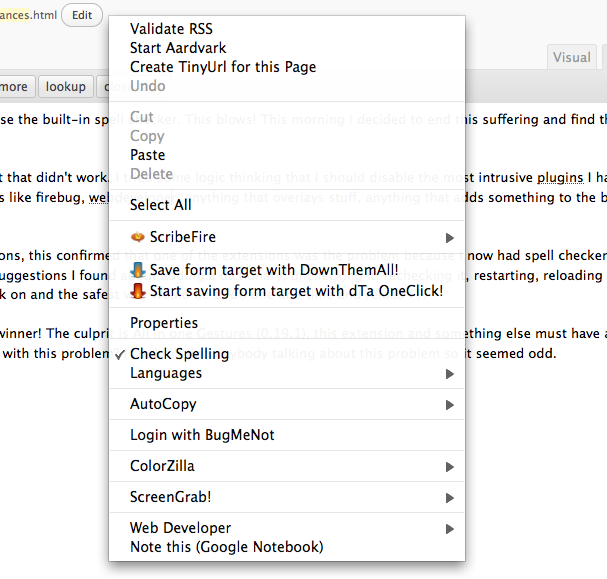 After two or three restarts I gave in and disabled ALL of the extensions, this confirmed that one of the extensions was the problem because I now had spell checker back on and it was working. Trust me, prior to this I had tried all the suggestions I found about adding a dictionary, unchecking it, rechecking it, restarting, reloading and all that stuff. So now I had to re-enable the extensions I needed back on and the safest way would be to do one at a time and reload FF.
I started this tedious process, but luckily the second hit was the winner! The culprit is All in one Gestures (0.19.1), this extension and something else must have a conflict and that causes the problem. Am I seriously the only one with this problem? This problem doesn't seem to affect a lot of people but I did find this thread that also mentions the problem and points to this extension as the problem. I guess I'll try another gestures extension since I've come to really like moving forward and back using the gestures.