Instagram Growth Journey, Thoughts Tips & Resources.
I wanted to let you know I'm trying something new with Instagram. If you follow me on other networks, you may know that I have an Instagram account here, under the username @notagrouch. By the way, why don't you follow me? I'm trying something new with it because I think it's time to grow my Instagram account.
I want to integrate Instagram into my blogging and monetization strategy, so I need to grow the numbers. That's just how social media works. Numbers and engagement rule the social media world. When I started this new experiment, 11 days ago, I had 890 followers. Today I just broke past 1300. THANK YOU, everyone, that has joined me so far!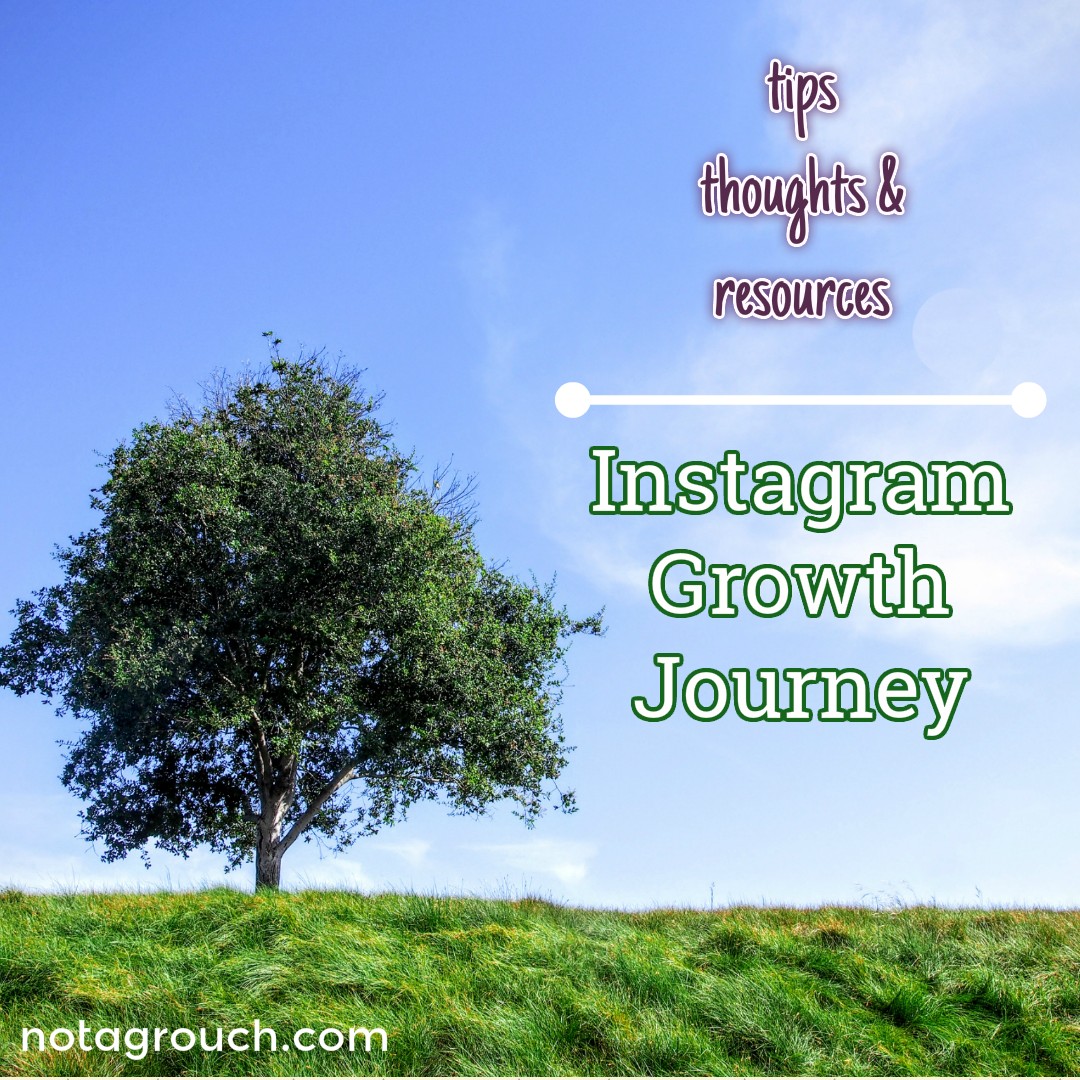 That's approximately 36 new followers per day, so that's pretty good I think. I'm sure it could be better, but I don't have boobs, fancy supercars, and I don't travel to exotic destinations every other day. My Instagram account is about my experiences as an entrepreneur, blogger, and vlogger. I teach how to use WordPress, how to do affiliate marketing, how to monetize your blog and all the stuff that comes with it so I'll post about that from time to time.
I'm learning to post better photos, to use hashtags and to create more engagement through engagement with other accounts. I knew what to do, but doing it consistently and effectively is totally different.
I have some ideas of what I need to do, and I've seen how other people do what I'm trying to accomplish. I like some of the techniques that people suggest and I loathe some of the other methods that some people use. The worst technique of all is when a "big account" follows you and you get excited, you like their posts, leave some comments and then follow back, just for them to immediately unfollow you.
This is a shitty trick and I'm already sick of it and I'm only 11 days into my growth spurt. I guess it's part of the game, but it's still a total asshole move #sorrynotsorry. Yeah if you do that, I'm calling you out. You're not a celebrity, you don't have to keep your following number at 71 and doing so deliberately just makes you look like a douche, not to mention that you ruin the experience for other accounts trying to grow and trying to engage with you. And I'm not the only one that feels this way.
I follow people whose content I like regardless of the niche they're in because I have many interests. The only reason I unfollow you is if you post a ton of pictures back to back and clutter my feed, or if your posts turn out to be really low quality. This rarely happens because I spend time looking at the accounts before I decide to follow so I know that I will most likely be interested in future content.
With that said, I'm using a number of tools to help me achieve the goal of 5000 followers. At this pace, I might reach that goal in 4 - 5 months, but as with most social media, I think that once I build more momentum the numbers may accelerate. Or I might crash and burn, We'll see.
The Tools & Resources
Here's a quick list of the tools and resources I'm using. I will be doing a review of some of these on their own blog post.
FotoJet (link)- Image creation app to help with quotes, photo editing and stuff like that. I normally use Photoshop and I know it well, but sometimes it's overkill. Fotojet so far seems like a great alternative.
FollowCop (link)- App for Android, helps me find out who is doing that ass*hole move I mentioned above, and also tells me who are the most engaged followers, who is leaving me comments, liking my stuff, and all that stuff so that I can stay on top of it. Instagram only shows about 24 hours of activity history so it's easy to miss some interaction; this helps a lot so my followers and new followers don't feel neglected. Don't worry, I'll get back to you sooner than later!
SocialRunner (link) - A service that helps you find engaged users in your niche. I would recommend you check it out if you want to try what I'm doing. They have a 3-day trial, 1-month or 3-month plan. If you want to save 15%, use this coupon: OSCAR20. You fill out an extensive questionnaire, they'll get in touch with you and then they help you find users and help you grow the account. I like this because they don't follow others on my behalf; I want to do that myself. A full review of this coming in the next week or two.
Buffer (link)- I use this to schedule posts in advance for Instagram. Also, I'm using the term "schedule" loosely because, with Instagram, you can't really schedule posts automatically like you can do for Twitter or Facebook; heck Facebook lets you schedule posts within their own service! For Instagram, Buffer takes the photos and your caption and then sends you a notification on your mobile device when it's time to post. Buffer adds the photo to Instagram and copies the caption to your clipboard so you can finish up the Instagram post before publishing.
InstaWealth Growth System by @Wolfmillionaire (link) - An extensive course to help you use an Instagram account to make money. Walks you through everything you need to accomplish this; I've just finished reviewing Chapter 1; it has 12 modules, and it's pretty good. I'll share my thoughts in a post within a couple days.
Notegraphy (link)- An app to help you create stylish quotes which you can then repost on Instagram. I'm not thrilled with this one but I've used it a couple times with various results. Android version linked, not sure if they have iOS.
Quoter (link) - Another app to help with quotes, this one comes with a database of quotes you can use. I've only used it to make my own, but unfortunately, I'm not thrilled with the results either. Android version linked, not sure if they have iOS.
Grow Your Blog FB Group (link) - A great group of bloggers that help each other with growth and engagement. Use sparingly and follow the rules, or you'll get banned.
And of course, I use the Instagram app a lot. I do most of my commenting, liking and following from the app on my phone or from the Instagram website on my desktop. I also have an IFTTT recipe that posts my Instagram photos to Twitter, but I'm thinking that's not the best strategy if I want to grow my IG account. The way I have that setup right now makes it so I post the actual photo to Twitter, so then people that see it on Twitter don't really need to go to Instagram to see it. This is a double-edged sword; on one hand, I'm giving the content to my Twitter followers exactly where they are, right then and now; on the other hand, they have no reason to follow through with the link to go to my Instagram account. I'll have to decide on that one.
Talk soon!