Red velvet cupcakes at SMMOC
If you weren't at SMMOC, you missed out. It's been a while since I've been to SMMOC, and probably it's been a while since you've been to SMMOC because it's been dark for 3 out of the 5 past weeks. Now that summer is here, you better make time in Saturday mornings to come and hang out with the cool kids.
SMMOC returns after a couple weeks hiatus! CRM & Foursquare topics.
Kevin Sablan - @ksablan
Since #smmoc IRL is pitch-free, maybe it's good that I can't attend today. Sign up for #smdayoc now!
Don't miss out. Here's your early alert to attend this great event!
Stephen P. Kane - @StephenPKane
@williamblumberg @stawwitch @edwardmcoffin @johnchow @rallenr Good morning fellow #smmoc ers
And good morning to you! And everyone else in here @michellelecours @kathyklingaman @melaclaro @woodysmithx1
Woody Smith - @woodysmith1x
Talking at #CRM here at #SMMOC.
Great discussion on both CMS and CRMs at #SMMOC - We talked about the following apps in this regard:
Streak for Chrome / Google.
Nimble - Social CRM
Salesforce (not my favorite)
MS Dynamics CRM (not my favorite)
Zoho - Free and online (mixed opinions on this)
@Zengy Pointed out something that is critical to the decision making for CMS and CRMs. Your workflow makes all the difference in how you should choose the software.
Steve Zehngut - @Zengy
Mentioned this morning. Great blog about security issues. http://t.co/NokdmgfR #smmoc @sucuri_security
Great blog pointed out by @zengy. This is the Sucuri blog, awesome security company that takes care of your hacked site and prevents your site from getting hacked in the first place.
Stephen P. Kane - @StephenPKane
Takeaway quote from todays #SMMOC meetup, "Headlines sell blog posts". C topics photo. http://t.co/fye1xrUR
And how this is true! Headlines make or break posts sometimes, It's your 3 second pitch, your hook, your bait to get people to read the rest.
Woody Smith - @woodysmith1x
#Hootsuite has link expanders showing where shortened links go, allowing spam avoidance. Look for "+" sign next to links. #SMMOC
This is pretty useful, especially as more and more url shorteners come onto the scene. This is a good way to verify a link before you go to it. It doesn't always work, like @JohnChow showed during the meeting. And sometimes they take a little while to reveal the entire link after you click on the "+" but nonetheless, this is a great option available in hootsuite.
In some cases, other apps, even Twitter (web) shows you the real link even if the link was shortened.
Always be careful of what you click on, be sure your browser is up-to-date and make sure you have antivirus installed on your computer.
William Blumberg - @WilliamBlumberg
How to use bad Yelp comments From http://t.co/cNTktMlF #smmoc
That was funny. And I think that's a great way of taking advantage of seemingly bad publicity. In all honesty, when a disgruntal client complaints about services or goods, it's always good to look at the whole picture.
Maybe this was a mistake in a given day, or maybe the guest or client had a bad day, or they are generally just nasty anyway and will always give negative comments.
When researching a place to do business with, don't just look at a bad review as a sign of trouble. Look at the majority of the reviews, understand the tone of the bad and good reviews, and do your own basic research.
Remember, crowds aren't always the smartest. Ultimately you have to decide if certain reviews apply to you or your situation.
Carol Hink - @CarolHink
Waving Hi & sending much Gratitude to awesome gang at #SMMOC !!! So appreciate your help :))
Missing a lot of people this morning at #SMMOC - @CarolHink, @LindaAbbit, @JeffHester.
@JeffHester is preparing for his wedding! Congratulations and I hope it's awesome!
@LisaMcClure & @DarinRMcClure are on the road today. Stay safe!
We have Food!
When SMMOC goes dark for a while, people tend to bring food and today was no exception. @zengy brough in some awesome bagels, @DniseSonnenberg brought some home-made baked goodness and @DanielaBolzmann got us some awesome cupcakes from @TheQueensBakery. By the way, this is how you eat a cupcake properly:
Closing comments
After at least 4 weeks of not being at SMMOC for various reasons, it was great to network and meetup with familiar faces.
The topics we covered at #SMMOC were diverse but also very relevant. We got great discussions about using Yelp vs Foursquare and what the value is for each one. Personally I get tremendous value from using both. Foursquare is huge for me and I use it for fun and business. I use Yelp more from a consumer point of view when I want to research a particular business or service.
One of the things we covered about Yelp is how sometimes some really good reviews get hidden from normal view. Sometimes the way these reviews are filtered seems unfair to the business and even seems like a disservice to the real users. But don't fret, you can always read these reviews. Just like @DanielaBolzmann pointed out, you can sort reviews with other methods. Normally you see the "Yelp Sorting" method which shows reviews based on Yelp's own algorithms.
To see all the reviews and sort them in other ways, use the links provided within the review itself. There are two places. One is at the end of the business listing and before the reviews start, like in the screenshot below:
And one is to show the filtered or hidden reviews as shown below: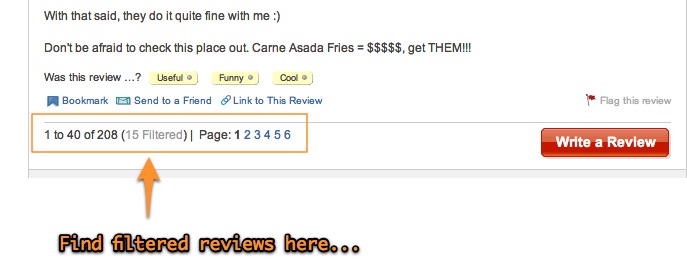 We covered CRMs and CMSs, also we talked about how to avoid spamming your own facebook wall with one type of update. Most people frown upon the practice of posting one type of update to your own wall constantly. Try to mix it up a bit, like @MichelleLecous said, show the complexity and sophistication of your personality. Otherwise we see you as a boring one-sided person. And spammy to boot!
Other apps we talked about were Instapaper, Instagram, WordPress and Pinterest.
Hope to see you there next time!
pictures
-
This post was generated by Dashter