Computer giveaway, the beginnings.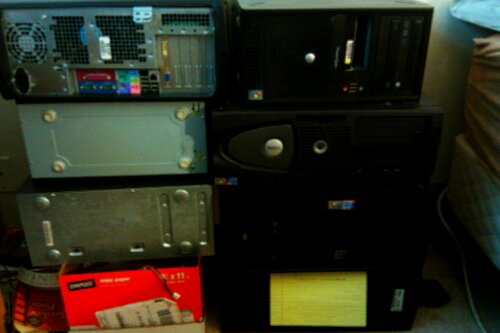 Are you interested on a free computer? Send me a tweet and let me know, and read the rest of this.
The company I work for recently gave me a bunch of computers. They were going to recycle or give them away so I said I would take them.
Somebody always needs a better a computer so I figured I could five them away after I get them fixed.
In total I got 8 computers from work. I know all of them work well since they've just been replaced over time as we upgrade our own desktops at work; the only problem is that some are missing parts.
Yesterday I began working on these computers. I have another five or eight computers sitting around collecting dust so over the next week or two I plan on consolidating all these into working systems that could be put to good use.
The computers vary in age from two to three and four years old, but they are still good. I know this seems old to some of you but others might appreciate the upgrade from a 7 - 10 year old computer.
I think I have parts to fix all the computers, but I'm also looking for anyone that wants to donate computer peripherals and accessories to this project; primarily I need RAM and video cards. Your company, name, twitter, home page could get some publicity from this. Contact me if interested.
I'm still deciding how the giveaway will work, but I know that I want to give these to deserving individuals, but stay tuned. And I'm open to suggestions so voice up in the comments if you would like to give me some ideas, please.