Right after my trip to Prosper Days this February, I'm heading to Guanajuato in Mexico. My buddy Sal and I are going to see the WRC (World Rally Championship) event that is to be held in Leon. I have only been introduced to this type of racing, and I'm excited to go see it and take advantage of all the photo opportunities that are sure to come up.This is the real deal, the WRC consists of 15 rallies that are raced around the Globe. They start on Monte Carlo which just completed, and then they go to: Sweden, Mexico, Argentina, Jordan, Italy, Greece, Turkey, Finland, Germany, New Zealand, Spain, France, Japan and they finish in Great Britain.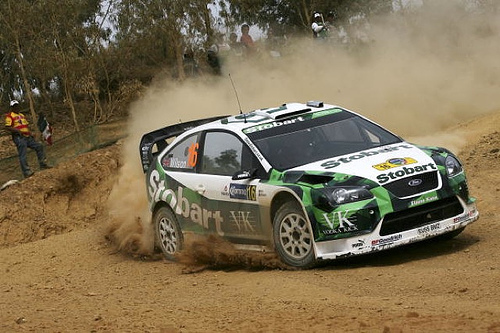 photo by Jalopnik
When I was reading more about the whole thing, I was surprised at the fact that Ford is a big name in the race, who would have known that Ford actually makes some good cars? The other big names in the race are Subaru, Citroen and Suzuki. I really expected these three to be more popular than Ford; that goes to show how much I don't know about this stuff. Other quick facts that suprised me are this:
The cars are worth about $1,000,000. I thought it was more like 250k.
The gearbox and engines are replaced about every 2 rallies.
Tires last about 60 miles --you won't hear me complain about changing my tires at 20K miles anymore.
All WRC cars have four wheel drive and six-speed semi-automatic gearboxes.
They go 0-60 in about 3 seconds.
The races vary in different countries and the roads are made of snow, ice, gravel, asphalt, mud or rocks.
At the helm of the beasts you have world-known drivers, Chris Atkinson an Aussie in a Subaru, Per-Gunnar Andersson drives a Suzuki Swift. Sébastian Loeb, driving a Citroen took the win at Monte Carlo and he is a favorite to win this years WRC. Other big names are Gian Luigi Galli (Ford), Jean-Marie Cuoq (Peugeot), Matthew Wilson also driving a Ford. You can see the full list of drivers on the official website.
I'm excited and can't wait to hear the engines fire up, and this would be the first time I see an actual rally race. Some of the videos out in the web are awesome. These guys drive through blind corners at 50-60 miles/hr and are constantly drifting. It looks so bad ass when you see those cars come up to a hairpin turn and just drift into it and come out doing 70, 80 miles per hour, its amazing.
I'll be on the sidelines taking pictures of the action and hopefully bring you some good shots when its all said and done. Depending on the internet connection I can find --if any-- while I'm down there, I may even give you a daily report.
This is one of the best videos I found, check it out, its about 6 min long but worth it..
[youtube vntsdFcNv1k]