Foodie Review: The Pig's Head at The Recess Room
If you asked me what I was going to be eating this week, I would have never guessed that I was going to eat a pig's head. But that's what I had, a pig's head at The Recess Room in Fountain Valley.
I was a bit apprehensive about eating a pig's head at first, but after watching a recent video about The Recess Room from Food Insider, I thought it would be a good dish to try so four of us got together for an evening of indulgence.
I'll start the review as simply as I can and tell you that the whole experience was amazing, every dish we tried was fantastic and the star of the show, the pig's head was out of this world.
The Recess Room
The Recess Room self-describes their offerings as modern American tapas with homegrown ingredients from the onsite garden alongside 24 craft beers on tap with a strong emphasis on local breweries, a wine selection highlighting the California Coast, premium whiskeys, and handcrafted cocktails.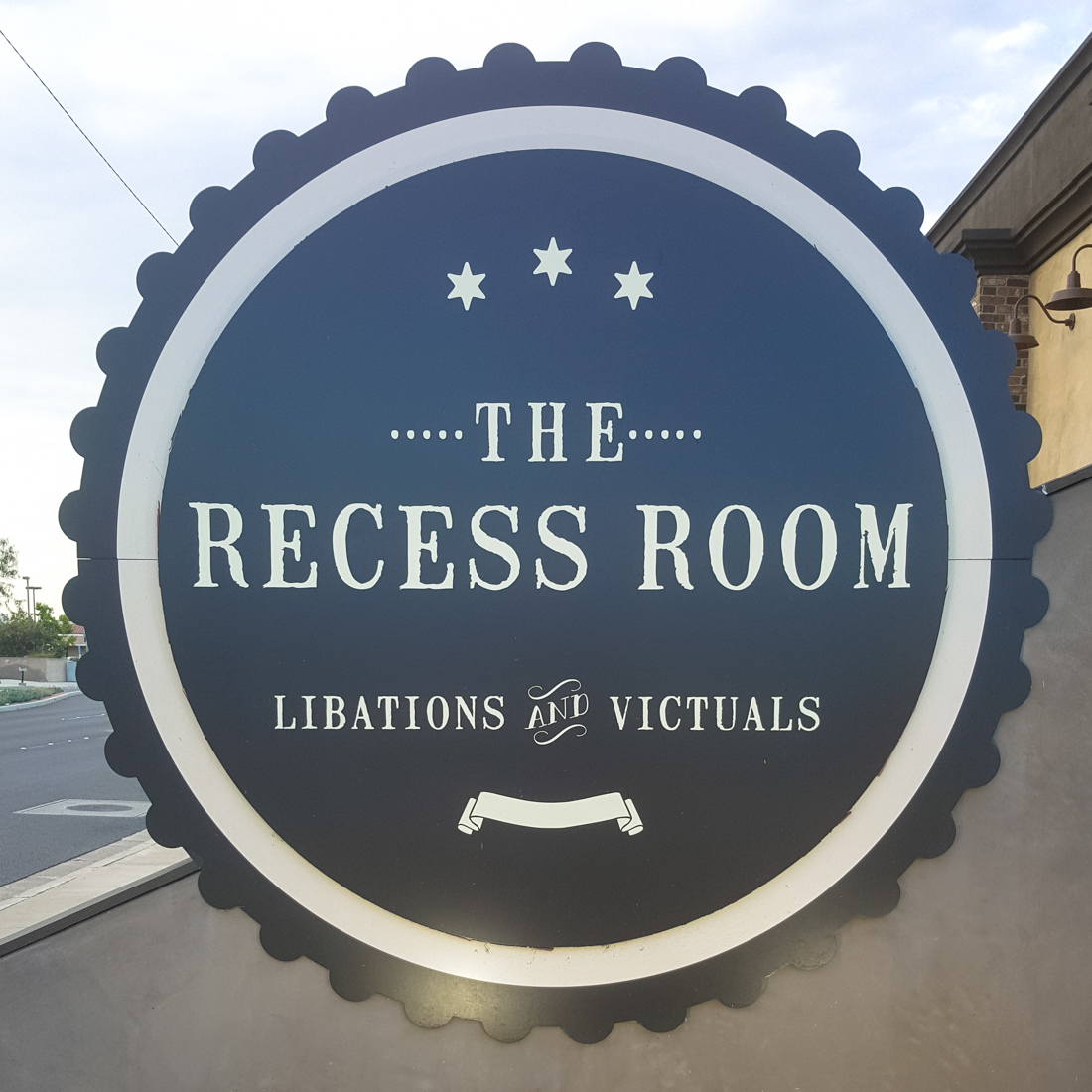 That's pretty accurate but, also humble. The Recess Room is located on Brookhurst, in an unlikely location more suitable for a fast food joint, or the neighborhood's dry cleaners.
No amount of description will express the feeling when get when you're in the place. When you first walk into the restaurant, it's similar to any hip spot in the Orange County area, but once you enter the main seating area near the bar, it all changes.
There is an inviting, soft glow pouring from the lighted bar and soft light fixtures alongside high tables. Beyond you'll find tables more suitable for a romantic dinner.
You imagine it should be in a fancy mall like Fashion Island or South Coast Plaza, but it is just in a small strip mall and actually a very underrated area. Close to the freeways and the beach, this location is easy to get to so you better make your way out there soon.
In simple words, it's a cool place. It has the comfort elements that a local neighborhood bar where you can hang out with your friends for a beer after work, but it also offers the sophistication needed to bring a date for dinner.
The food is on par with the decor and ambiance and it didn't disappoint. If I haven't made it clear yet, you have to go try The Recess Room.
Now, let's get into the food.
To start, we ordered Tom yum fries and popcorn shrimp, which I believe are only available during happy hour. The popcorn shrimp was sweet and scrumptious and as good as any that I've tried before.
The fries, on the other hand, were UH-MAzing.
I can't overstate this, these are probably the best non-traditional fries I've ever had, maybe the best fries ever. They're fries, you think, just fries, right? And they may be just fries, but they give the pig's head a run for its money and they were the best dish we tried besides the pig's head.
I hope they keep these on the menu forever. I would go back there just for the fries.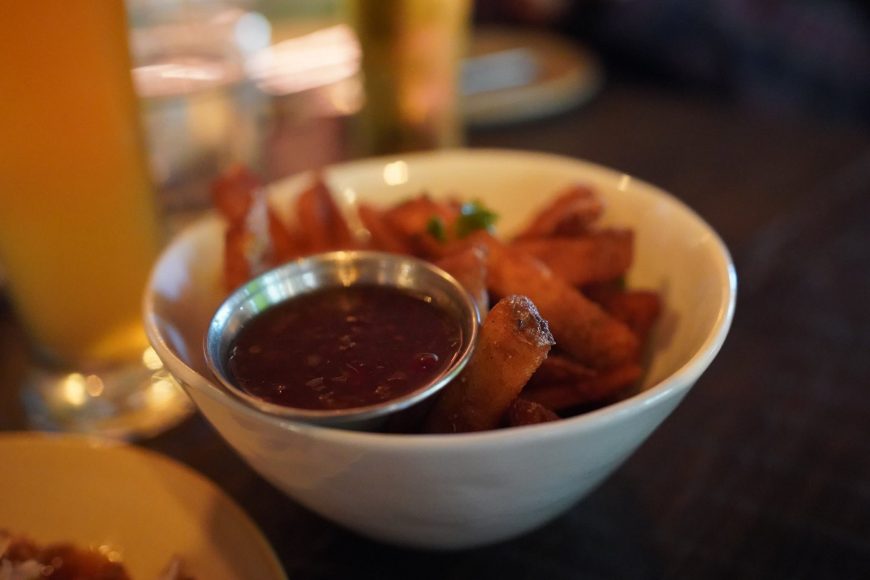 Talking to Victor Nguyen
I happen to know one of the owners so he came by to visit for a bit and brought along a slew of other appetizers that were just as good as the fries and popcorn. He also gave us a short interview, so you can see that in the video.
Victor also talked about the inspiration for the restaurant. It had been a long time dream of his and his childhood friends so they finally got together recently and opened up shop a couple years back.
They wanted the place to be a fun, inviting with a sprinkle of nostalgia back to the "good old days" of recess during school time.
This is reflected in the decor, the ceiling, for example, resembles a basketball court floor because they grew up playing ball, the food has traces of the comfort food they ate growing up and there are tons of board games up front that bring back childhood memories.
But back to the food
The smoked mushroom dish was unique, a medley of maitake, bunashimeji and oyster mushrooms mixed with lardo (a bit like pork salami/bacon) topped with crunchy almonds. A must for mushroom lovers.
We followed that with cheesy corn and a longaniza empanada, both of which were quite the elevated bar food.
And as a bit of a prologue to the pig's head, we also got the fried chicken skins which were out of the ordinary. Crunchy and flavorful, they are served with homemade ranch and powdered with a flavor that seemed so familiar but we couldn't quite put our finger on it.
Turns out when we talked to Victor Nguyen, he said that they basically reversed engineered the flavoring that comes with Maruchan noodles, yeah those cup-o-noodles that are part of every college kid's coming of age. Another little touch to make this a heaven for nostalgic comfort food.
The Kurobuta Pig's Head
After a number of beers and a round of whiskey shots with Victor, the start of the show arrived. The Pig's Head. By the way, the videos show you our whole adventure so if this the review is TL;DR for you, hit play in the next video.
Priced at $58, The pig's head is not the most extravagant item on the menu, they also serve a $110 Tomahawk steak, but the pig's head is huge.
I know it seems obvious but the pictures and videos available don't really convey how large the butcher block and the half head really are.
As soon as it arrived, the whole surrounding area became filled with a rich and delicious aroma reminiscent of freshly cooked bacon, carnitas, and chicharron. I was lucky to have the first bite and it was for lack of a better word, amazing.
The head is prepared much like carnitas, confit style. I didn't really know what that meant until I started writing this review.
I just thought that was a fancy way of saying "deep-fried," but confit, in fact, means "cooked in its own fat" so basically the pig's head is cooked slow, deep-fried in pig's fat.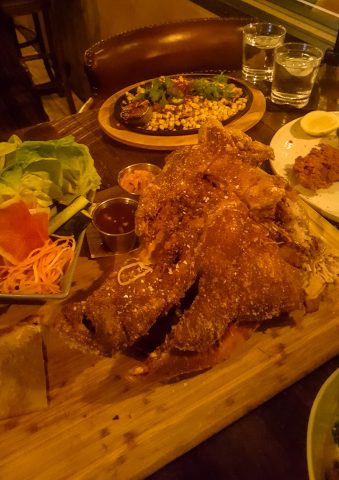 The cooking method yields a super crispy skin, while the inside is soft and tender. Once it's a little bit cool to the touch, you can just cut a piece off, or rather just kind of tear a piece off, then you can eat it by making a lettuce wrap of sorts, topped with pickled daikon and carrots and cilantro, then drizzle some of the tofu-kimchi aioli or sweet-and-spicy sauce served alongside.
I think that's technically ssam style, or at least inspired from bossam. The other way you can eat it is by using wrapping the pork in the roti bread that is served with it.
Of course, you can also just take a chunk and eat it straight up. No matter which way you decide to dig in, you'll love it. We all did.
If you want to have a try at this dish, make sure you call ahead. They suggest 48-hour notice so they don't run out. You'll see a few reviews on Yelp mentioning how they ran out of it during busy nights.
When you order the dish, after it's presented you have the option of diving in hands first like we did, or they can take it to the back and separate all the meat for you and bring it back ready to eat. You decide. Obviously, the first option is the most fun, but it can be messy.
We wrapped up the night with the Fluffernutter, another decadent dish that just buttoned up the night in perfect harmony. Needless to say, this is no a place where you come concerned about your caloric intake. You come here to enjoy great drinks and amazing food inspired from what can only be described as Southern California culture.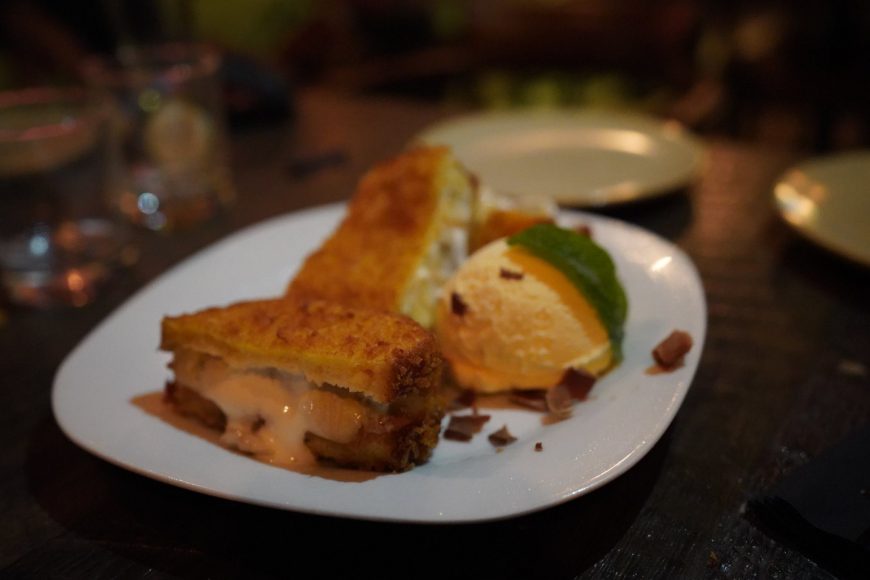 In Conclusion
I do have to say that this wouldn't be for the squeamish. If you aren't used to seeing the less used parts of the animal served or prepared, this is probably not for you. But if you have had lechon, whether Spanish, Hawaiian, Philipino or another style, and you liked it... then this will be right up your alley.
The whole experience was unique and even though you haven't seen The Recess Room written about too much in foodie blogs, or magazines, you will soon. I'm sure of it. It's only about two years old and it is most likely only going to grow in popularity over the next few years.
If the Pig's Head doesn't attract you, the large selection of whiskeys might, along with some really creative cocktails and craft beers on tap.
All in all, I give this place a five out of five.
I only had my phone with me and like I mentioned, the place is lit softly so it was dark. My photos aren't that great, so I borrowed some of the photos from my friend John, and you can see some of the dishes they serve after our photos, directly from their Instagram.
The Recess Room Photos
https://www.instagram.com/p/Bc86xVXlpM5/?taken-by=therecessroom
https://www.instagram.com/p/BcDNZDalVES/?taken-by=therecessroom