GrowSumo Gave me Five Bucks Just Because
If you're a new affiliate, trying to make some extra money you may be wondering what networks you should join.
I've talked about Shareasale before, I told you about Refersion and they even interviewed me a couple times. I promote Peerfly even though I don't really make money from their products.
But I wanted to highlight another network that is starting to pop up in my radar more and more frequently.
That is GrowSumo.
I'm seeing a few of big names and new names using the GrowSumo affiliate system. Seems that they're making themselves a name in the affiliate space.
Maybe I missed the boat, but I just recently found out about them.
I think you should check it out and see if they have any vendors that might fit your niche.
They have a lot of companies and I'm sure they're adding more every month. Right now, the majority of the available merchants seem to be software based.
I'm partners with Evernote, Streak CRM, and recently a couple of new companies I'm learning more about. I'm trying to get some demos from these new companies so I can show you what they're all about.
I made a video about Streak a couple years ago, and it still gets traction so I thought it would be time to revisit that.
But back to GrowSumo.
They have a centralized dashboard to show you all the activity going on with your partnerships. And they are really staying in touch with me as an affiliate. I have been on the dashboard a few times and their chat bots keep popping up.
Speaking of, you should hear the interview I did with Heather Havenwood about chatbots, it's right here.
GrowSumo seems to make it really easy for the affiliate manager to send a quick message to their affiliates. That's pretty standard but I think GrowSumo does it the best right now.
Although the new UI for Shareasale is pretty slick too... I'll talk more about that later, in another blog post.
GrowSumo really takes out the problem where affiliates sign up and they forget about your product. I admit it, I've done it.
It goes a little bit like this: Your program caught my eye, your product seems good, it fits my audience so I sign up and then forget all about your program.
Growsumo has kept me coming back for more and just today was the latest little trick to keep me coming back. I've only started promoting a couple products from their marketplace, but I have one sale and a few installs.
But another notable thing is that GrowSumo just kicked over $5.00 just for getting clicks!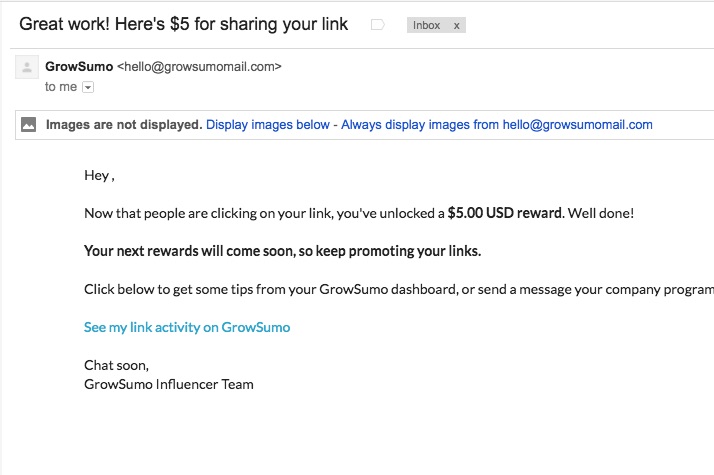 I looked at the dashboard and there are other tiers that will get you more bonuses. But that's refreshing.
Not only do I get commissions and stay in touch with my affiliate managers, but GrowSumo is encouraging us so that we promote the programs.
You can check out their marketplace right here.
I know that $5.00 is just whatever, it's $5.00. It's even gimmicky, but when did an affiliate network pay you to promote their vendors' links. And just to get some clicks. Not even sales yet! (well, just the one).
It's almost like getting paid just for clicks. I suspect this will be temporary as they ramp up their user base, so take advantage of it now while it lasts.
Check it out when you get a moment at GrowSumo.