Hoverboard Unboxing and First Ride on the Leray Dreamwalker
I know, I know, they're not really hoverboards, but that's the name that stuck so let's just go with it ok? Technically, these are called self-balancing electric personal scooters, but who wants to call them that? Some call them segway boards or scooter boards. Call them what you will, this is my story.
This is about the Dreamwalker, by Leray. No, this one won't catch on fire. At least it shouldn't because both the battery and the charger are UL certified. And contrary to popular belief, not all hoverboards are created equal.
If you want to get your own, avoid the cheap knock-offs. This one costs about $450 - $570, depending on where you buy it. Amazon has them for $399 on sale from $579 (see link at the bottom). No coupon needed.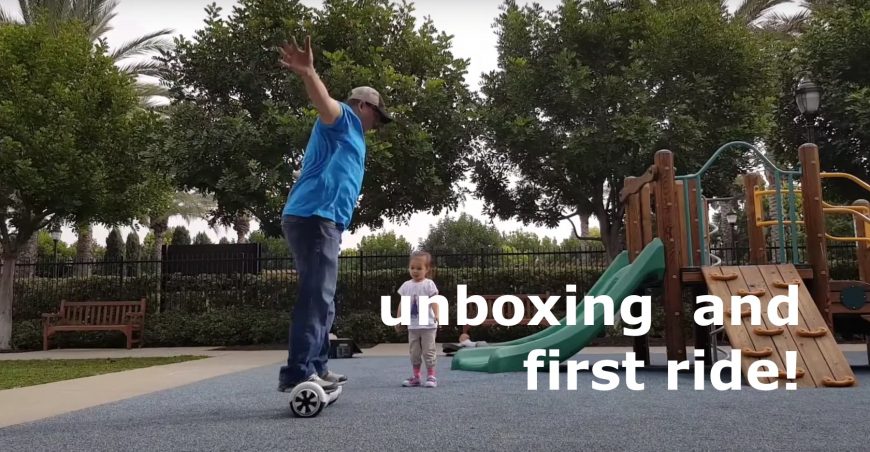 So Leray sent me one of their Dreamwalkers and this is what happened. I was hesitant to use it at first because I didn't want to scratch it or damage it. It took me a few days to get some time to try it out.
I also had seen many people on Youtube, and they totally ate it. They jumped on these things like "Hey, I got this!" and before you know it they were on their ass, those falls look painful. Most of them look like they hurt their hips or back and I didn't want to be another one of those.
I thought... what is the safest way to try the hoverboard for the first time? Someone suggested to try it on the carpet. I don't have carpet at home so that wouldn't work.
The best place to try the scooter for the first time
The best way to learn is to try it on the soft rubbery floor at a playground. That's what I did. It worked out perfectly because the rubberized surface gives the scooter great grip so it won't slip from under you and if you happen to fall, the soft ground will soften the fall.
Anyway, enough of me writing about this. Let's get to the video
Review & Commentary
My thoughts on the whole thing are like this. It is a lot of fun to ride it and to use it. The battery lasts a really long time considering how small the device is. And it takes just over one hour to charge fully.
It comes with a nice carrying case, a manual and the charger. You can fit the scooter in the carrying case along with the charger so it's pretty convenient.
The Dreamwalker's construction feels really solid, but if you end up going really fast like I did and have to bail then it might roll and crash into a curb. Don't be like me. Mine has two cracks on the body because it hit the curb pretty hard; I'm surprised it still works.
I have been taking the Dreamwalker out when I "walk" my dog Picasso (the dog), he loves it because we can go pretty fast. I have taken it out all the way to Starbucks a few mornings which is like a 3 or 4-mile round trip.
I even took it to go to the grocery store with the kids pushing a double BOB stroller with them, that was fun. At the store, I just put the hoverboard in the basket under the stroller while I did some shopping. It worked out great. I wouldn't ride it in the store, that's just too risky.
The secret tip! When you get your own, there's something that is not in the manual, the hoverboard has two modes. Normal mode and "secret" mode. I discovered this by looking around on Youtube.
To activate the secret mode, turn it on, then press the power button again quickly, this puts it into an "easy" mode; you'll hear a long beep if you. This secret mode makes the hoverboard a little slower to turn, this is great if you want to go fast but don't want to get the "wobbles" I just wish this was stated in the manual. I could have used this knowledge before I crashed mine into the curb!
Do I recommend you get one?
Absolutely! They're fun and they're a carbon-free way of getting around for short trips. But make sure you practice for a while before you go out on a long adventure. It took me about 20 - 30 minutes of riding time to get the hang of it.
Some people think that it would be good for them because they have bad knees, but I don't think that's the case because the scooter does not have any suspension so any little bump or crack on the road gets transferred to your knees.
Keeping balance on this is a bit of a workout so that's another advantage. If I ride for about an hour when I get off, I can feel my legs, my abs and my lower back like if I had done a moderate workout. Keeping balance and dealing with uneven surfaces is a lot more of a workout than you would think.
If you want to get one or check them out, here are the links:
** Notice, Amazon has pulled these off the shelves so the links above don't work at the moment. However, If you want to check out other hoverboard options, the research team at Reviews.com personally tested and compared seven top models on the market and created this guide: https://www.reviews.com/hoverboard/
The Dreamwalker is UL certified and built with high-quality components and higher standards of manufacturing. Currently, Amazon has them for 399.00 (normally $569.00). Don't buy the cheap ones because those are the ones that risk catching on fire because they use cheap components, and are built with poor assembly and manufacturing standards.
White model -
Red/maroon model -
Blue model -
Black model -
As you can see, the one I have is white and I really like it. Thanks Leray for sending this to me. It's awesome!