Marché Moderne Prix Fixe Review
We had a founders meeting for lunch the other day. And by founders I mean the three of us that started the Dot Com Lifestyle meetup. John Marc and I.
We decided to visit Marché Moderne for lunch. I've heard about it before and I was excited to try it out. Marché Moderne is tucked away in The Penthouse of South Coast Plaza.
It's on the 3rd floor near Canali and Norstrom. If you take the elevator you'll exit and the bistro will be on your left. If you come up the escalator then it's on the right.
Let me get the little things out of the way.
The service is good, but a little lacking in details. I had to ask for water no-ice maybe six different times after I got iced-water with each refill. That got really annoying after, say the 2nd time. Other spots can get away with little details like that. Places like Marché Moderne can't.
There's also something peculiar about this place. Some of the tables are split into a bench seat and chair seating. It turns out that the chairs are about 2 inches shorter than the bench AND the cushions sink all the way to the bottom of the chair. This makes it very awkward to sit. I felt like I was about to kick up my feet with a soda and watch a movie.
I'm not super tall, but I'm not short either. 5"9 and I had to bend my elbows and shoulders in a very awkward position to be comfortable. I commented about this to the waiter and he said, "oh yes, we have cushions for that."
WTF
I look around and I could tell other people were not very comfortable, one couple near us commented about this as well. Here's the thing, if you know that people tend to be uncomfortable so much so that you have a stock pile of cushions in the back to tend to this problem. you're doing something wrong. Time to replace the chairs or re-upholster them or whatever you need to do.
Not only did I feel embarrassed asking for the cushion, but c'mon when you're serving lunch dishes for $44 a pop, in one of the world class malls, you can't let little details like this sneak by you.
With that out of the way, I must tell you that the food was absolutely yummy.
Yes, I just did use that word. You can see why here. In all seriousness, the food was delicious and prepared perfectly.
The server was very nice and described us the menu additions and specials. Everything sounded amazing but all three of us opted for the Prix Fixe, dubbed the Spontané menu.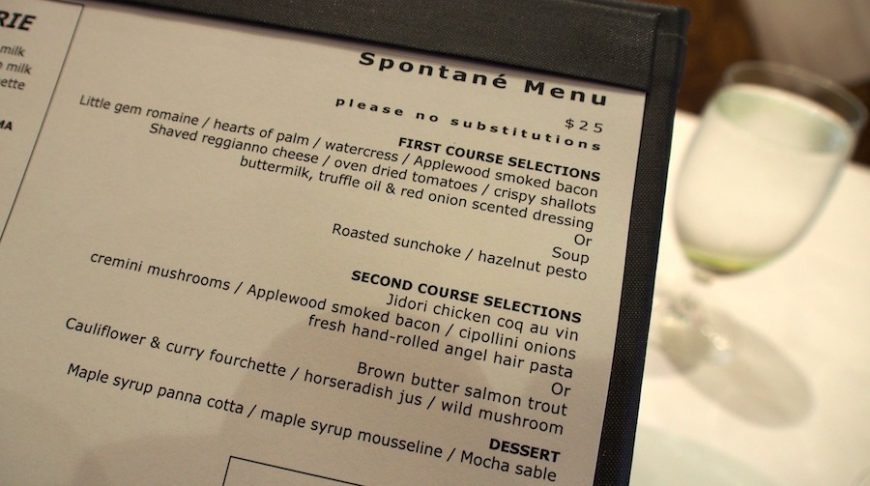 With the fixed price menu, you get one of two starters, one of two main dishes and the dessert. I got the chicken and so did John, but Marc went with the Trout that wants to be a salmon; it's halloween after all so why not.
The chicken was nothing short of amazing. It was perfectly cooked completely but still remained as moist as it should be. The wine reduction was in point and you could get a hint of the garlic. The mushrooms were cooked perfectly as well, if you do cremini incorrectly you end up with rubbery mushrooms or a mush, but not here.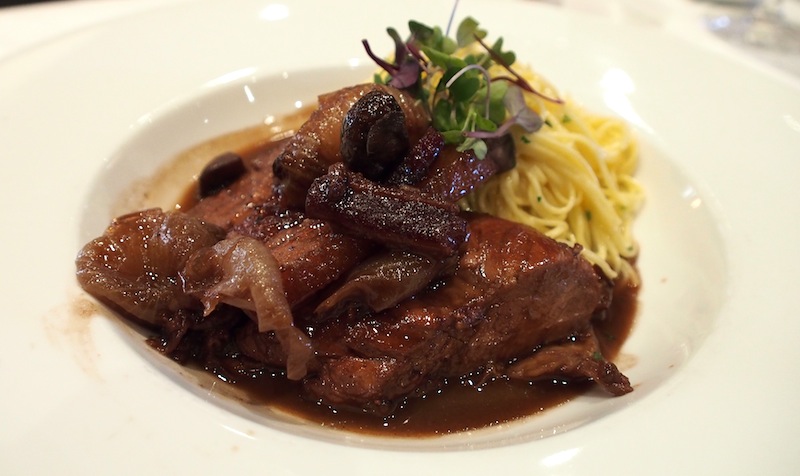 Despite being a fancy restaurant, the onions and fresh greens kept some of the rustic roots of the dish. To top it off, the chicken was served with an delicious hand-rolled spaghetti. I know people make noodles by hand. I've made udon, regular flat pasta and even regular spaghetti at home with a rolling pin and a machine. But to roll it by hand and have it come out this perfect, well that's why you pay the prices you pay here.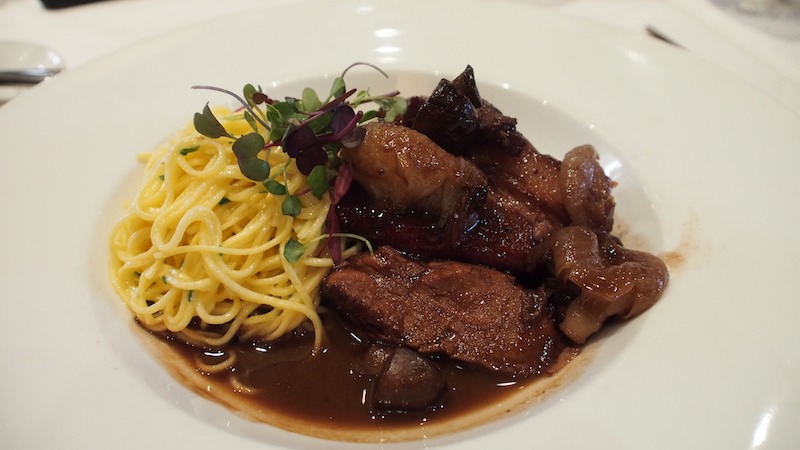 Marc got the trout and by all comments it was also delicious. I didn't try it but it looked really good, here it is.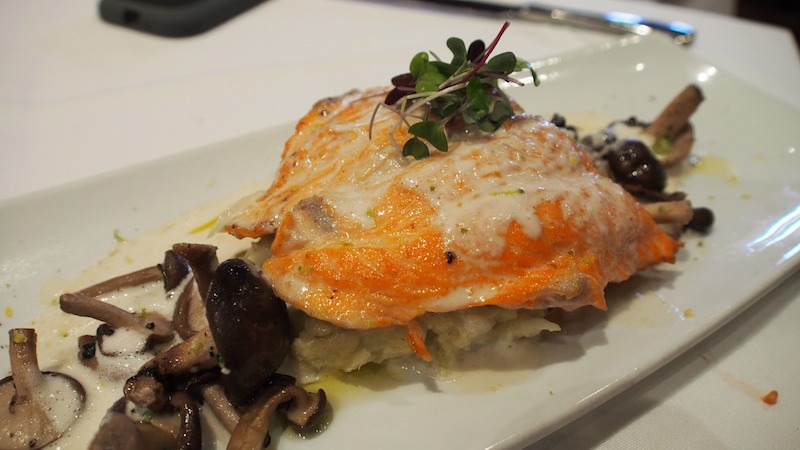 Doesn't that look appetizing? To finish off the meal we got the dessert. I wondered why a french bistro would be serving an italian dessert, but I went with it. Turns out it was very unique. It tasted like pana cotta nd it had the classic sweet but subtle flavor with the creamy consistency but it didn't feel like pana cotta. Call it what you will, but it a perfect way of closing down the meal.
Ended up pairing that with a cappuccino so I could finish off friday with a bang. Another perfect item, the cappuccino was done right with the right amount of foam, perfect temperature and served with rustic sugar cubes. Classy.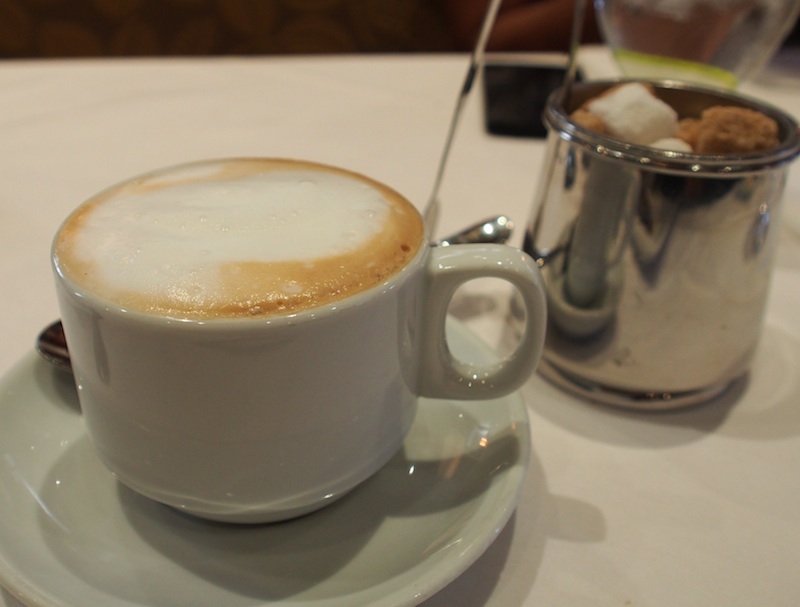 Overall, this place deserves a five star rating. Service was attentive, friendly and professional. The food was, beautifully prepared, seasoned and cooked to perfection and at $25.00 for the fixed price this was a bargain. I can't speak for the $30+ lunch dishes but everyone around me seemed to be enjoying their food and ambiance so it must be good.