Featured Plugin: Pre-Publish Reminders
There's always a list of stuff you do before you post to your blog. Whether you realize it or not, there are a number of things that must be done before you hit that Publish button on your next blog post.
For example, did you...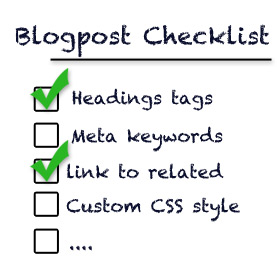 Categorize your post properly?
Use proper title (h1, h2, h3,...) tags?
Give it some tags to contextualize it?
Did you add your trackback links?
Have you optimized your slug?
Spell check?
Did you remember to give your post an image or a thumbnail?
Did you remember to ____________?
Linkify the post?
The list can go on an on depending on your own workflow. But stop worrying about these things, note them down on a list so you can keep it handy as reference. Better yet, get this plugin.
About Pre-Publish reminders
The plugin is written by Nick Ohrn and it is highly rated. Despite its low total download numbers, it serves a very good purpose for those of you that want to make sure you cross all your t's and dot your i's.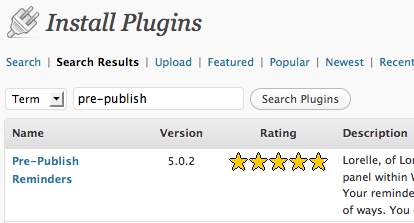 Pre-Publish Reminders is a great little plugin that presents you with a customized list of stuff to do before you publish your post; hence the name.
Quick & Easy
Installation is pretty standard. Go to your plugins section, click on add new, then find the plugin and install it. Nothing special about that; you can activate it at the same time.
After you install it and activate it, the plugin shows up under Tools and its listed under its own name. Configuration for the plugin is pretty simple. The configuration page gives you all the options needed to start using the plugin, you can add, delete or customize reminders.
Adding reminders
Type in the text you want to show up as the reminder. Tip: Don't make the text there too long. You'll be seeing this text in your post edit screen when you create a new post so think about that. I prefer brevity in the text field because I put my list of reminders on the side directly above the save/edit/date panel. Notice the nice touch to where you can add a color and a color background to our reminder with a slick color picker. You can add one more level of customization to your reminder and make it Bold (strong), Italicized (emphasized) or Underlined. Click on Save then your reminder will be available from your post page.
Using the Reminders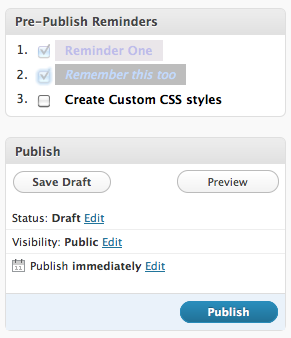 The plugin automatically ads any reminders you've created for yourself on the edit post page for your blogposts. Depending on how many plugins you have and your particular theme, the position of the reminders may not be obvious at first. For me, the Pre-Publish reminders panel was tucked away towards the --very long-- edit page.
Simplify things and actually make this plugin a useful addition to your toolset, I suggest you do the same. Drag the panel up to the top of your page and place it directly above the Publish panel as shown on the picture.
As you work through your post, use the reminders to keep you on track. The reminders have a nice little check-box next to them to mark them as completed allowing you to focus on your content and not the stuff you need to do to publish.
Instead of just text, I wish you could put hyperlinks as the reminders. This would come in handy for some of you; for example if you want to do some keyword analysis before you publish, you could have one of the reminders actually take you to your keyword analysis tool.
Deleting Reminders
I almost feel silly telling you how to delete reminders because it is so simple, but here it is. To delete a reminder, just go to the options page for the plugin, select the reminder you want then click delete.