Start. The Pressure Will Deliver.
Often times we think that we need to plan for things, that we need to have all our ducks in a row. And we plan. We then plan and plot the next steps. We jot down our path. We project our waypoints. We even do research to validate our master plan.
This is all fine and dandy, except days and weeks or even months later, we've not taken any action towards completing any of those things we planned out.
As you start to look at this master design, you start planning out the smaller tasks that you need to do to reach the big goal. Except the task list keeps growing. It gets overwhelming. Nothing gets done.
I have come up with a name for this group of people. I was part of this group before. This scenario I described is the routine of the duck liners. And these people are everywhere, heck, you may be one of them. I know I've been one before.
And so how do you get past this rut? It's just procrastination. But there are ways to get past it.
First you must accept that this is a problem. You must realize that planning for another day isn't going to make the outcome of the project any better than if you start working on it today. There's something to be said for planning out your goal, tasks, deliverables and contingencies, but you must act on them.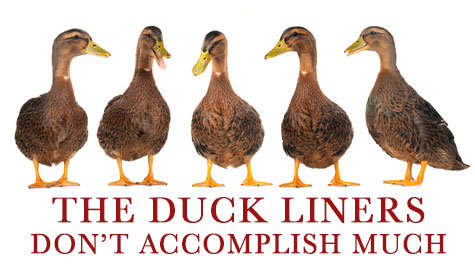 So one way I found to help me eliminate this problem is to start working on it right away after the basic foundation and premise has been established.
One example of this is my email list autoresponder. I wrote about having an email list on a previous post, and I made a point to tell you that you must keep the subscribers warm you can do this with an autoresponder.
But I wasn't doing that until now. And so I came up with my way to add value to my email subscribers by giving them great information that entertains them or informs them.
How does that even tie in to the topic of procrastination?
We are talking procrastination when we talk about the people getting ready to get ready, the duck liners, the planet aligners... call it what you will, it's simple and straight-up procrastination. That's the topic of this post. And so what does my email offer have to do with this?
When I first wrote this blogpost I had only three emails setup in my autoresponder. I now have over 34 emails that will be sent to different people based on various factors, like their location or their interest or which page they might have used when they joined my list.
The thing is that I started with just three emails. That was enough to start and invite people to subscribe. I built it from there. As I added another email I discovered something else, then something new, then I discovered more ways to make my emails better. Eventually I mastered the entire thing by the time I had ten emails in there.
Most people would have tried learning Aweber first, then they would have tried to create their emails. If you are constantly looking to learn everything about something before you take action, then you are a duck-liner. Don't be a duck-liner!
So next time you are pondering what other feature to add to your website before launching, what other title to draft for your blog, why not just start with what you've got? The accomplishment of the first few tasks will fuel your fire to do more and continue building momentum. Momentum is a beautiful thing.
Momentum is priceless. By definition, momentum means you are moving. So start moving, pick a direction and move!
When you start taking action towards your goals, you will also discover things that no amount of planning or teaching will ever reveal. Real-world practice always trumps classroom theory. So get out there and do. Start and the pressure of doing this will help you deliver!
If I invited you to start a blog, then do it! remember, use this link: http://oglink.it/inmotion and I will set it ALL up for you.
If I invited you to start an autoresponder to share your knowledge, stories or unique info, then what are you waiting for? Aweber is free to start