Wait, Alexandria Ocasio-Cortez Uses G Cal? For Congress Business?
If you follow the news, and the political turmoil I'm so vehemently trying to stay away from, then you may know about the new controversy that Alexandria Ocasio-Cortez found herself in recently.
It seems that Alexandria gave her boyfriend access to her work calendar, and this caused a cacophony of complaints and accusations and more drama. As if we didn't have enough. But something caught my attention in AOC's tweet response.
First, let me just give you just one bit of context. I don't care about who is right, or whether she's allowed to do that or not. That's not the point of this post. So let's have a look.
The person that seems to have raised attention to the fact that AOC had given access to her boyfriend was actually calling AOC out for getting her boyfriend to work for her. But she responded that he was listed there because she shared her calendar, and played it off as if doing this was normal for congresspersons.
While you were having a nice Valentine's Day, @AOC decided to put her boyfriend on staff - drawing a salary on the taxpayer's dime. Nice to see her adapting to the swamp so quickly. pic.twitter.com/bvncwzxY53

— Luke Thompson (@ltthompso) February 15, 2019
Here is her tweet in response and I highlighted the part that caught my attention.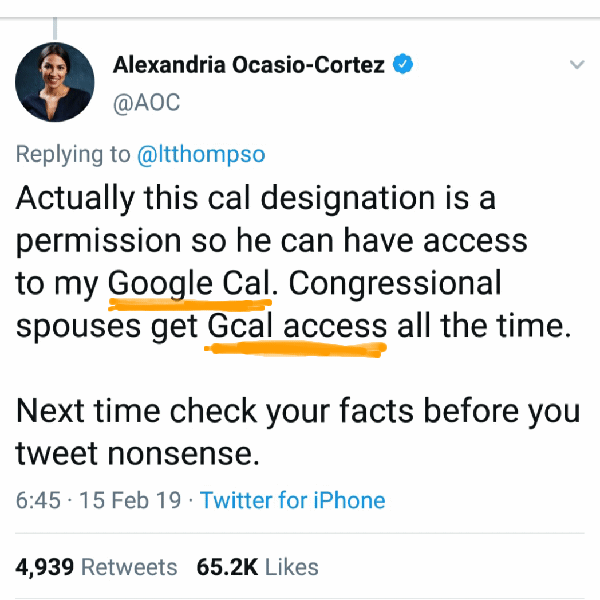 She's using G Suite, previously known as Google Apps. And in fact, it's not only AOC using G Suite because that wouldn't really work in this case. I can only assume that her entire office is using it. And my optimistic logic mind tells me that if she's using it, then the whole of Congress is using G Suite; it would just make sense and would be the most efficient way.
I mean, they must be, right? If she got in trouble for sharing her calendar access with her boyfriend/partner who doesn't work with her and her response was that "Congressional spouses get Gcal access all the time."
That can only mean one thing, don't you agree? That Alexandria Ocasio-Cortez is sharing her Google Calendar.
Maybe even the Federal government is using G Suite. I don't know for sure and I haven't looked into it, but if they are, that's good!
Good because that means that they hopefully are saving money and should have really good security in place. G Suite does security really well, and running a G Suite email system is much more cost-effective than a comparable system running on Microsoft, or Linux based platforms.
So why does this matter to you?
Well, because you too could be using G Suite for your business, saving money and increasing efficiency, security and reliability. Even though Google has products for Government, and Enterprise level operations, their bread and butter is G Suite for small businesses.
But, Oscar! The email address in the tweet is not a "Gmail" address!?
Well, Google can host email for any domain that you want. So the difference is that Gmail is free, and you always get an email address ending with @gmail.com, but with G Suite, you can use any domain. Well, any domain that you own or control.
Ever since I started using G Suite when I still had a 9-5 job, I've been recommending it to everybody. I have been using it since it was called Google Apps, I think I've been using it for over 10 years now.
Sharing files with colleagues, vendors, and clients is a breeze. I can also share a file publicly with a couple of clicks, things like downloadable pdf reports.
I have folders for all my clients and each folder has files I share with them and I can specifically share some files with some people and other files with other people. We can collaborate on Word documents, spreadsheets and just like AOC, in calendars so everybody can see each other's availability.
I can even make public surveys or questionnaires after I collect all the responses then G Suite will give me a nice report of the data, with pie charts or graph bars to present the information easily, and it puts it into a spreadsheet also. It's pretty sweet.
I use G Suite to keep files for internal projects, I can store any kind of file and then it's available anywhere I have access to the internet, on my mobile device, on my tablet, on any of my laptops or even at a client's site if I need to. It's always backed up, always available and always easy to share.
Check it out, if you're interested in using it for your business, here's the link to it.
If you're really interested and are ready to sign up, I have a couple of discount codes. Google gives me a couple every few months. But they're single-use, so I can't post them. If you want one of the codes, leave a comment, make sure you fill out the email field, and I'll email you the code.
This discount code for G Suite gives you 20% off your first year of service.