How do I Find Images to Use on my Blogposts?
This question came from Diane from dianejasa.com during our Blogs & Coffee session, to join in and ask questions, attend one of our sessions and we'll do our best to have your question answered. For more info, visit the Blogs & Coffee archive here.
How do I find images that I can use on my blogposts?
Synopsis: Sometimes you have a great blogpost but you don't have an image that you created yourself either by using photoshop or by taking a photo yourself. It's easy to just go on Google and look for an image then use it for your blog, but I do not recommend this as a matter of practice because you can run into legal issues.
Just because you find it on Google, doesn't mean you can use it for your blog. You need permission to use photos and images that aren't yours. Or you need to find images and photos that have been licensed for public use under a Creative Commons license or similar.
Short Answer: Use a plugin that facilitates the image search and inserts the photo for you while taking care of the licensing. The plugin is: ImageInject, and you can find it in the WordPress.org repository.
Long answer: You can search the web for images that are free to use, by using the Image search in Google, then using the more tools section to find images that may be licensed under creative commons or other license that allows you to use them for blogpost and business if necessary. This can be tedious and time consuming.
I recommend you use the ImageInject plugin that is free in the WordPress plugin repository.
After you install it and activate it, you will find a new search box at the bottom of your edit window in your blogposts in WordPress. Use this to search for keywords related to the photo you need or want to use.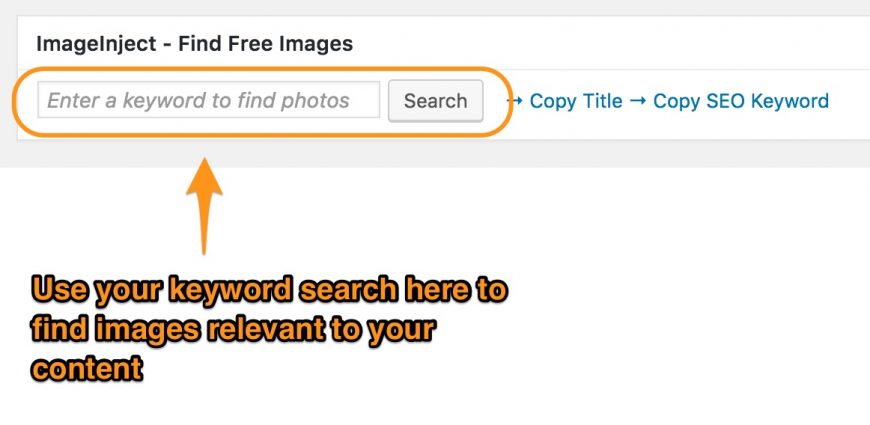 After you search (1), you'll find a list of images from a couple different sources (2), you can then insert the image directly into your blogpost by using the correct size or set them as a featured image (3).
The plugin also imports the image to your own media library so you can use it as the featured image for that blogpost. The plugin takes care of adding the necessary attribution to the post as well so you should be compliant. The images are free to use as is, or they use the Creative Commons licensing model. You can learn more about that here.
Once you have added an image to the blogpost, you can also set the image as the featured image to that blogpost. Just use the Featured Image section on your edit screen like you would for any other image from your media library.
Of course, the best way to add images to your blogpost is to take your own photos or create your own graphics and use those, but this method I've shown here is the next best thing. Let me know if you have a question I can help you answer, or better yet, join us at the next Blogs & Coffee meetup!