How to create short links without a link tracker service
I covered a little bit about Pretty Link Pro and Linktrackr on a previous post. So you should be familiar with URL trackers or URL shorteners. I use the terms interchangeably.
There's a couple ways to create a short url like the ones I talked about without using Linktrackr or Pretty Link Pro. The benefits of using a link tracker tool like Linktrackr is the management and statistics tracking. But if you're only going to create a few links once in a while, you may not need all the fancy tools that Linktrackr provides.
Using one of two plugins, you can create a short link on your existing WordPress website. I'm sure there are other plugins that do this as well, but I can always count on one of these two.
Redirection is a full fledged url redirection management plugin. Its primary purpose is to make sure any URLs you change aren't broken. It lets you redirect one page to another using various redirect techniques that I won't cover on this post. But we're going to be using the 301 redirect option.
Once you've installed the plugin, you go to the management section to create a new link. You'll find this in the Dashboard, then under Tools and then Redirection.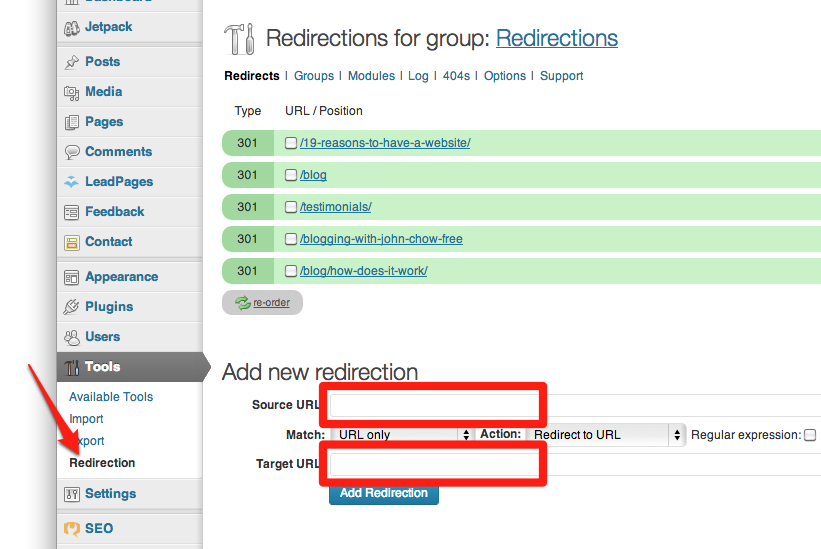 Creating the link is really simple. In the example below, I've created a link that goes from to http://google.com. You could use this to create an affiliate link, or a short link to any resource you like. The link on your website is the source URL and the Target URL is where you want it to go.
PLEASE NOTE! - In the screenshot below I put the whole address, including the first part of the domain: https://notagrouch.com. You don't need to put that in, and you should only put the rest of the URL as the Source URL. I did this to explain that the Source URL will be on your existing domain. In this example, it would be "/out/searchengine" (without quotes of course).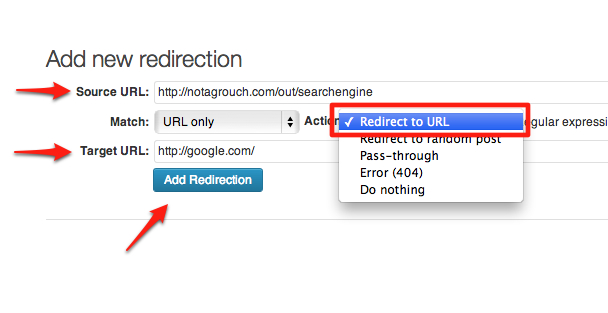 After you fill in the Source URL and the Target URL, don't forget to click on Add Redirection. One neat feature here is the Redirect to random post feature. You could create something like http://yoursite.com/random and have it go to a random post each time someone visits that. For most basic links, you'll select Redirect to URL. The other options are more advanced and beyond the scope of this post. You can get Redirection for WordPress right here.
The next plugin has a lot less features and it works slightly different. It is simpler and mabye quicker to use, but also, in my opinion makes a little bit of clutter on your Pages and posts section. Let's take a look.
This plugin adds one simple field at the bottom of all your WordPress pages and posts. The new field lets you send anybody that visits that particular page, or rather the URL for that page, to a different location. It serves the same function as the Redirection plugin and the other services I mentioned. But instead of creating the link through a dedicated management section, you create a page, then assign the target destination to that page.
The Source URL in this case will be the permalink assigned to that page or post. The Target URL can be anything you want.
Let's take a look: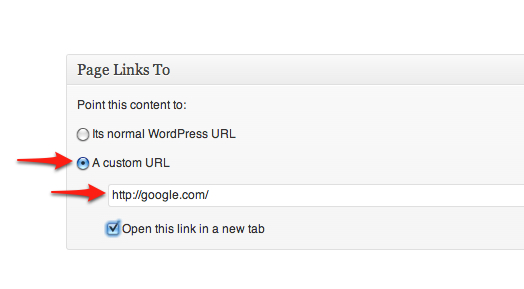 See, this is much simpler to use. You create a post, or a page and then change "its normal WordPress URL" to go to a custom URL as shown in the settings. The normal URL will be the target and it is largely dependent on your permalink structure. You can get Page links to here.
In Conclusion
Creating redirecting URLs can be very beneficial and useful at times, but you don't have to spend money with premium plugins or services. If you only need to create a couple redirects, then try one of these free options. But if you start using this more regularly and create more than a dozen or so I highly recommend something like Linktrackr. See what I did there? I used a short link to send you to the Linktrackr website, I'm oh so clever.
Update: I created a tutorial that explains how to create custom links to your social media profiles using this method. If you like video tutorials better, you should check it out. That's available here.