Taco María, The Ultimate Taco Tuesday Experience
This message comes through on my Facebook messenger the other day. It was a long-time friend asking me for advice. She wanted to know if I would help her and mentor her with her blogging questions.
She offered to buy me lunch so I thought, why not? I help a friend and I get a free lunch.
This is not why I help people, but it is a nice perk, especially when people want to pick my brain but don't want to or can't hire me.
I thought about where to go and finally decided on a place that had been on my list for some time. It is called Taco Maria and if you had not guessed by now, it is Mexican food.
But this is not your typical Mexican food. Some people say it's the best food in Orange County, Mexican or otherwise.
This is high-end Mexican cuisine. I can only think of one other place that I've tried that would be in the same class, Red O in Newport Beach.
The flavors were authentic but new at the same time, it's hard to explain but the use of seasoning reminded me of my grandma and the amazing food I had growing up in Mexico.
At the same time, everything was new and exciting.
The Agua Chile, their version of ceviche had the tangy limey flavor and salty crunch that ceviche should have but also introduced unique ingredients like squid ink to give it an unforgettable twist. It was just spicy enough to make you say oooooh, that's nice!
When we finished it, I asked the server to leave the remaining sauce and I enjoyed it by the spoonful throughout the rest of the meal. It was that good.
To drink, I had the agua de jamaica, which is a traditional agua fresca, made with the hibiscus flower. That was too little, but I enjoyed it up to the last sip.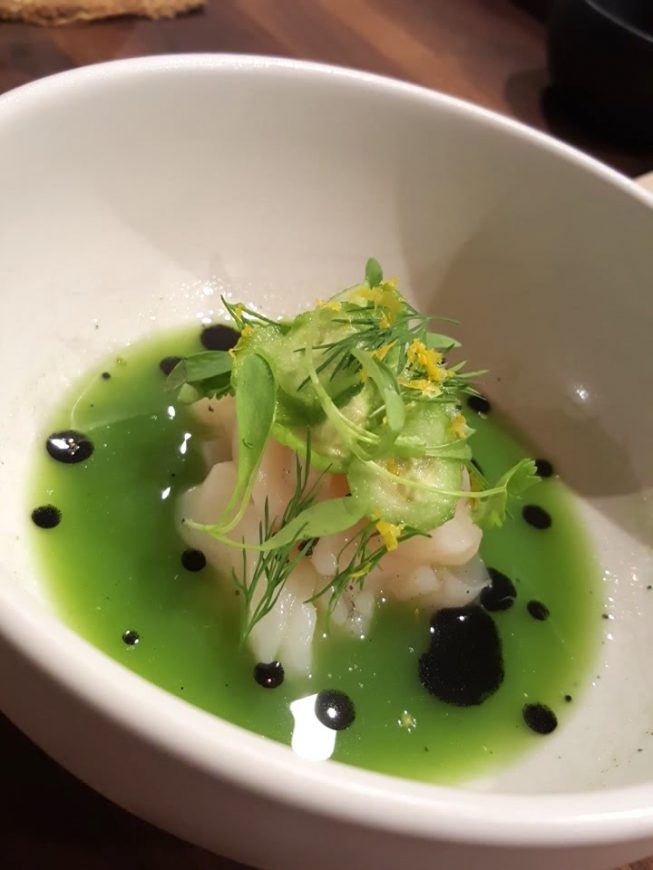 We went on a Tuesday so naturally, the menu was based on Tacos. The old #TacoTuesday thing was made new again.
We ended up trying the steak tacos with tocino (bacon), chile con mole, fish, and vegetarian. Every single bite was as flavorful and satisfying as the first one and I was left wanting more.
Keep in mind, these are not your mama's tacos.
Many people will scoff at the idea of paying $18 for a pair of tacos, but once you try these you will likely forget that this might be ounce per ounce one of the most expensive Mexican meals you can find in Orange County.
The only downsides to Taco Maria are the location and the limited seating. I personally loathe the OC Mix, it reeks of smugness and pretentiousness, with some places offering undeservingly expensive items like a $5.00 cookie, a $24,000 sofa, or a $6.00 8 ounce cup of coffee that takes 20 minutes to make.
But just for Taco Maria, I'll go back there, I'll put up with the crowded parking and even wait 30 to 45 minutes for a taco.
If you decide to visit I recommend you make reservations (dinner & brunch only), or go for lunch before 11:40 or after 1:30 if you don't want to wait.
Leave the little ones and the big crowds at home too, this place is best enjoyed when you can fully take in the experience and share it with a small group of 3 to 4 people, but make sure everyone is there or else you will not be seated.