How to Track your Miles for Tax and Expenses Automatically
Every year I get several emails from my accountant asking to provide all my receipts and deductions. I dread this email. I dread that conversation altogether. I hate taxes; I hate keeping track of those things.
Don't you!?
I know they're inevitable, but I still hate them. Another thing that I totally hate, and you may relate to it is tracking miles. Besides, you don't get to a million dollars by ignoring money that is owed to you, right?
When I first started my career, I worked for a tech company and had to do enough driving each month that I needed to submit an expense & miles report.
Man, did I hate that too! Sometimes my reports would be a couple months late. I wish I had this app called MileIQ back then. But this is back in the early 2000's. The only smartphone we had was the Blackberry, and it wasn't all that smart; I think it had like 12 apps.
But today, with all the new apps and stuff we have on our phones, it just makes sense that an app would exist which tracks your mileage and helps you categorize your trips exactly when you need to.
That app is called MileIQ, and I wanted to share it with you for today's spotlight feature. You can get it for Android or iPhone. I've been using it now for a couple of weeks, and it's fantastic. MileIQ is a business mile tracker, although it works for personal use as well.
I like it so much that I have thought about ways I can justify a business trip just to be able to use this app.
Fortunately, living the dot com lifestyle, I drive mostly for personal reasons. Occasionally I'll have a meeting with a client to consult with them on a big project or an urgent matter, but those meetings are rare.
Even if my business trips are far and few in between, MileIQ comes in handy in those situations because meetings tend to be far away, like an hour or more away, sometimes that's over 100 miles.
You may not realize this fundamental component of owning a business; it's not just about how much you make, but how much you get to keep, so tracking expenses and miles for tax purposes helps every last bit.
If you have a regular job that reimburses you for mileage, then you have to take advantage of those reimbursements. That's where MileIQ comes in.
This handy little app, just like Digit for my savings, removes procrastination out of the equation and takes care of everything for you. Whenever you get in your car to drive somewhere, it keeps track of the distance and time.
A few minutes after you arrive at your destination, it will pop up on and ask you to mark that drive as a personal or business trip. Swipe left for personal, right for business, and done!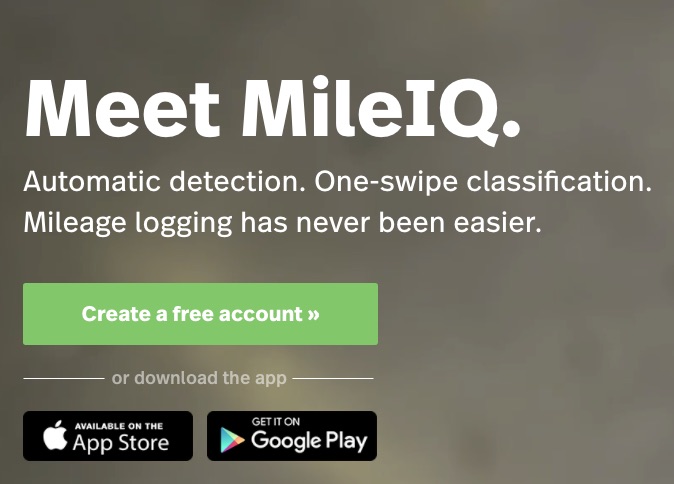 With this, whenever you need a report of your miles, just pull up the app, and there they are, categorized neatly. MileIQ can email the report directly from the app and help you stop stressing about mile expenses.
There's also a full-fledged dashboard available on the website. From the dashboard, you can classify your trips with more detail. You can add vehicles, name locations and look at reports. I'll be doing a full review about that soon.
If you do any driving on a regular basis, make your life easier by using this app. It takes a moment to install, and setup and then you're good to go. The app is free to use, but they have paid plans. The paid plans are designed for people that drive a lot.
If you use my referral link: https://www.mileiq.com/invite/NARZK, you'll get 20% off any paid plan, and I get $25.00 so you'll be helping me and helping yourself to a nice fat discount!
If you give this a try, I'd love to hear what you think and what your experience was like getting started with it and using it.