Glamping Hub an Insider's Look at the New Way to Find Outdoor Adventures
By Jackie Dreyer, for Glamping Hub.
Whether you are looking to up your vacation game or want to try your hand at hosting guests, glamping may just be the answer. After reading Oscar's previous article about how to make extra money online and offline, we noticed we Glamping Hub is included so we thought it'd be nice for you all to find out a little more about us—from both a host's and a guest's perspective.
Who is Glamping Hub?
Glamping Hub is the first online booking platform and leading portal for unique outdoor accommodations, and the website features more than 35,000 accommodations in over 115 countries. Glamping, or glamorous camping, is a way for travelers to stay in the great outdoors without having to sacrifice creature comforts—camping with added luxuries and five-star amenities.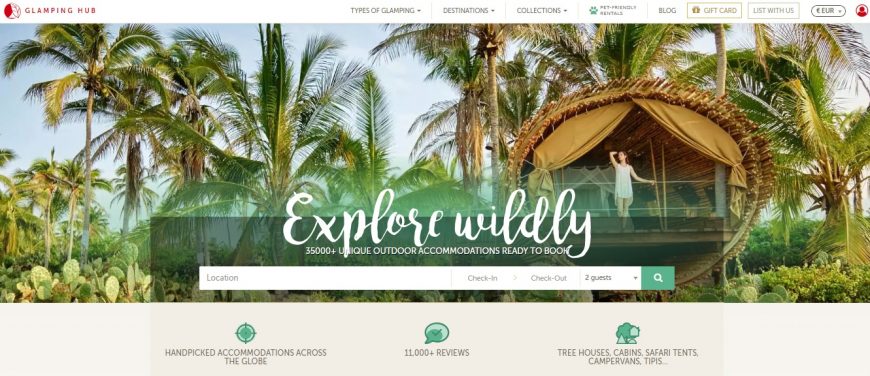 How to become a Glamping Hub host
If you're looking to make some extra money, all you'll need is a unique accommodation in a nature-based location and the desire to help guests create some special memories with their loved ones. Once you've got all of that, it's as easy as sending a request through Glamping Hub's List With Us page.
All you have to do is fill in a few quick text boxes with your contact information, the name of your property, a URL, and voila! We take care of the rest of the work for you—including researching your property and the area, writing the text, adding photos and reviews, and more.
The end result is a unique, curated listing with original content that is SEO driven in order to optimize traffic to your accommodation on our website from Google.

Meanwhile, our support team is in contact with the host and will set up a tutorial of the host's dashboard, which is the user profile and platform we have for our hosts to edit their listings, manage bookings, update their calendars, and various other administrative tasks.
It's important to us that our hosts feel comfortable using our platform in order for them to succeed and know what to do from the moment they receive their first booking request.
This is a sponsored or guest post, brought to you by
Glamping Hub
. To learn more about sponsored posts and placement opportunities
click here
.
Why become a Glamping Hub host
Glamping Hub's booking platform is one-of-a-kind—it's both specialized and transactional, which provides a unique opportunity for our hosts to receive traffic and bookings from a tailor-made, yet expansive, audience.
To get technical for a second and help put things in perspective, just two years ago, in 2016, Glamping Hub received 2.6 million visits, which resulted in 12,000 booking requests and $2.1 million in revenue—and by the end of 2018, that will have tripled. Moreover, the average ticket price for a two-night stay is USD 500.
As a Glamping Hub host, our support department does much more than get you and your host dashboard ready to receive your first booking. You'll also have access to the Glamping Hub customer support team seven days a week to help you with anything you may need, from adding new accommodations and altering text and rates to managing requests and beyond.
Why become a Glamping Hub guest
On the whole, experience-based travel and placing a strong and purposeful emphasis on the "customer experience" is on the rise in the travel industry. While this upswing may require other travel companies to make major changes in their business models, this is something that has naturally been at the core of Glamping Hub from the very beginning.
Perhaps one of the most unique things about glamping—apart from the interesting accommodations (like tree houses and tipis, to name but a few) and locations—is that the hosts frequently play an integral role in the experience that these destinations provide.
Think of it like this: Arriving at one of our glamping sites is much like getting to a new city and meeting an old friend who is going to show you all the best places to go, eat, and enjoy. They've lived there for years and have all the best insider knowledge, and we all know that type of person is exactly who you want to introduce you to a new place.
In fact, many of our glamping accommodations offer special, on-site opportunities, thanks to the knowledgeable hosts who run them, their passion for their glamping sites and the area surrounding, and their own unique hobbies.
The list is endless: yoga and meditation classes; cooking courses; wine and olive oil tastings; medicinal herb garden tours; zip-lining; and so much more.
Going glamping with Glamping Hub is 100% what you make of it—whether you're looking for a relaxed weekend away with a good book and a glass of wine or your inner adventurer is desperate for its next adrenaline fix. No matter what type of vacation you seek, the beauty of glamping is that you can personalize your getaway to be exactly what you want.