YouTube Subscriber Growth Plugin for WordPress
I hope you're following my 90 Day Video Challenge on YouTube. I'm into day #39 as of this blogpost. It's been challenging and fun.
When I was going through the earlier videos my friend Harsh reached out and told me about his Youtube subscription plugin. So this is what we're talking about today.
The plugin can be found here, and it's only ten bucks, $9.60 to be exact. Of course, like most things on this blog, I got it for free so I could tell you about it and take it for a test run.
First The Downsides of This Plugin
As usual, I'll tell you about the downsides of this plugin before I get into the good stuff; there's only one. The only issue I found so far is that it doesn't play nicely with another plugin I use called Fitvids for WordPress which takes care of making the videos responsive so they resize to the correct size for every screen.
When you use Fitvids with Youtube Viral Subscribe, you break the responsiveness. This may or may not be a huge deal to you, so act accordingly. I reached out to Harsh from Shoutmeloud and brought this up and he said they'll have a fix sometime next week so in reality, this may not be an issue by the time you read this.
Update 12/30 - The plugin has not been updated so I had to deactivate it for now. The demo may not work currently on this site, I will update this when there is an update to reflect a fix for the responsive display of the videos.
Now Onto The Review
The official name of the plugin is: Youtube Viral Subscribe, but you'll find it in your dashboard as Youtube Viral Growth. And it works pretty simply, by adding a link to subscribe to your YouTube channel directly on your WordPress blog.
[bctt tweet="The purpose of this plugin is to increase your subscribers, plain and simple." username="notagrouch"]
Installation is basically the same as all other plugins for WordPress. Download the plugin, install it to your WordPress dashboard using the upload feature and then activate the plugin. Once activated, you'll need your license key which you get when you buy the plugin. Plug your license in place and voila, the plugin is ready for use.
The settings are pretty straight forward as you can see in the following screen: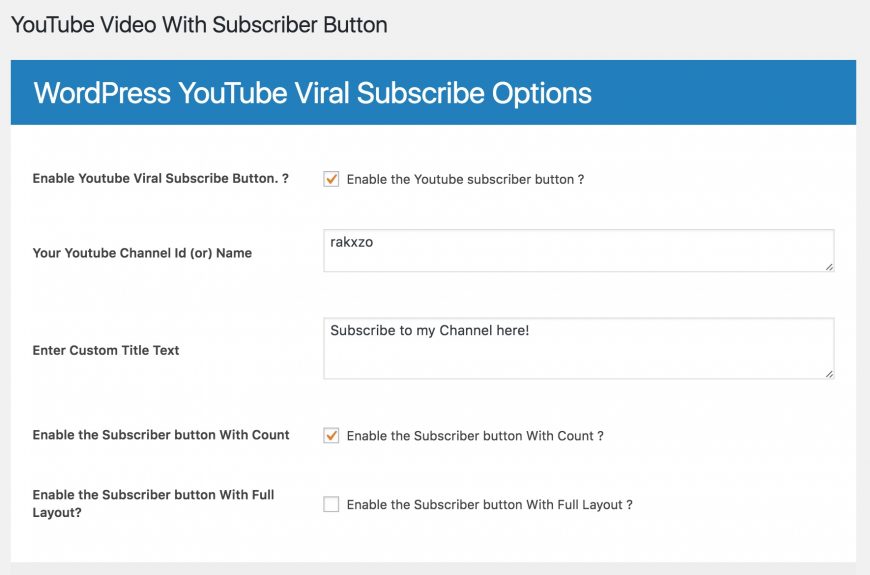 After the plugin is installed, activated and configured, a button to subscribe to your channel will show up under your Youtube videos embedded in WordPress and this makes it really easy for readers of your blogpost to subscribe to the channel without leaving the blogpost.
This is what it looks like on my blog as of right now: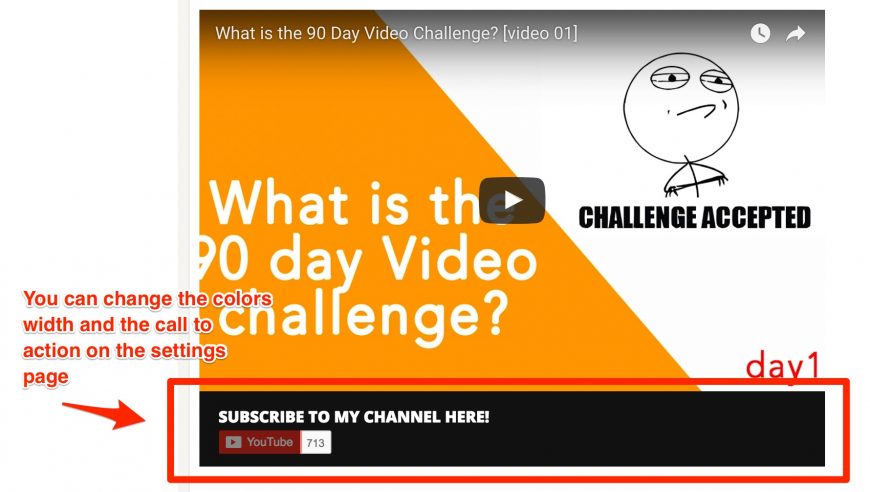 Overall, this plugin has a lot of potential. As with any social network and social media growth tactic, you still need to put in the work and effort to create good content.
In this case, you need to make sure the content is attractive to your readers and make sure you configure your videos to be shown in the best light possible. Each video you embed in your blog becomes an invitation to subscribe to your YouTube channel so make sure it's compelling and attractive!